Astoria Cosmetic Dentistry Transformations
If you're unhappy with any aspect of your smile, Eduart Shkurti, DDS and his dedicated dental team can help you achieve the picture-perfect smile of your dreams. We offer a full range of cosmetic dentistry services to brighten, straighten, and perfect even the most flawed smiles. At ED Family Dental, we invite patients to contact us to schedule a cosmetic dentistry consultation to explore their options and begin the treatment planning process in partnership with our team.
Porcelain Veneers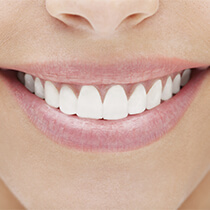 Many patients with extensive chips, cracks, stains, and gaps in their smiles, believe that they will need advanced restorative or orthodontic treatments to renew the appearance of their smiles. However, in many cases, we're able to transform smiles with one simple, minimally invasive treatment – porcelain veneers. These thin sheaths of tooth-colored porcelain fit over the fronts of teeth instantly concealing smile flaws. The process is virtually painless. In fact, most patients don't even need local anesthesia to complete the procedure. Patients who choose porcelain veneers should plan to visit our office two times. During an initial visit, we remove a minimal amount of surface enamel from teeth to allow the veneer to blend seamlessly into patients' smiles. Then, we capture bite impressions that will be used by our dental lab to craft a custom restoration, and place a temporary veneer to protect treated teeth. Once the final restoration arrives at our practice, patients return to exchange the temporary for their custom porcelain veneer.
Metal-Free Dental Restorations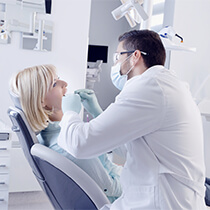 Dental crowns, bridges, inlays, and onlays are an essential part of restorative care, and we offer these restorations in a variety of materials including gold and porcelain bonded to metal. Pure gold restorations offer the most durable solution, but they do not repair the marred appearance of patients' smiles. Porcelain bonded to metal restorations offer an improved cosmetic appearance, but over time, the porcelain layer begins to wear away revealing the darkly colored metal below. Patients looking for a superior cosmetic solution and those with allergies or sensitivities to metal may want to consider metal-free, all-ceramic restorations. Crafted from a single block of high-quality ceramic, precisely shaded to match teeth, all-ceramic restorations retain their cosmetically superior appearance even as the restoration begins to wear. Additionally, this restoration crafted from a seamless block of ceramic is less likely to chip, crack, or break away over time.
Invisalign Clear Braces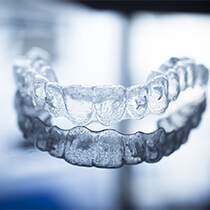 Straightening teeth does not have to mean patients spend years with a mouth full of metal brackets and wires and make countless visits to the orthodontist. We offer straighter smiles in less time without the mouth full of metal using the Invisalign clear braces system. The Invisalign system utilizes a series of clear, plastic alignment trays to gently shift patients' teeth to their ideal position over the course of about a year of treatment. Each set of aligners represents one step closer to the desired result, and patients wear the trays for about two weeks at a time. Following the predetermined wear time, patients exchange the current set of aligners for the next set in the series.
In-Practice Teeth Whitening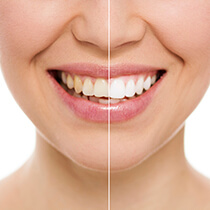 Teeth whitening is one of the most popular cosmetic dentistry solutions available, but many patients visit our office already discouraged by their lack of success with over the counter whitening products. The numerous whitening toothpastes, mouthwashes, strips, and gels available from the local pharmacy promise dramatic transformations, but they are not able to deliver these results. Our professional in-practice whitening treatments use a higher dosage of active ingredient, making them more effective. Additionally, we apply the gel carefully and prevent saliva from accessing the teeth and neutralizing the whitening gel. We allow the whitening agent to remain on teeth for fifteen minutes at a time. Then, we remove and check the progress, and reapply as needed. Patients typically achieve their desired results in about an hour.
At-Home Teeth Whitening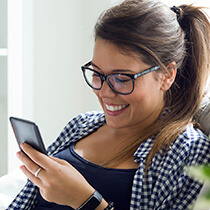 Patients who prefer to brighten their smiles gradually and those with sensitive teeth may prefer our professional at-home whitening kits. Unlike store bought varieties, these whitening products are able to deliver results up to ten shades lighter over the course of two weeks of application. We provide patients with custom crafted application trays that seal professional grade whitener onto the surface of teeth and keep neutralizing saliva out, allowing the whitening gel to remain active and brighten smiles.
Direct Cosmetic Tooth Bonding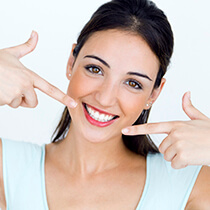 In many cases, direct bonding is a fast, effective method of correcting dental damage in just one visit with little or no loss of natural dental structure. Using composite resin filling material, we can repair or conceal chips, cracks, and gaps in patients' smiles. Unlike porcelain veneers, direct bonding requires just one appointment to complete, saving patients time and money. However, the tooth-colored bonding material is not as durable as porcelain, making it ideal for minor damage but not more extensive cosmetic flaws.
Digital Imaging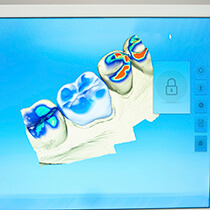 Digital photos allow our team to show patients the potential outcomes of their cosmetic dentistry options dramatically improving the treatment planning process. We capture photos of patients' teeth and smiles, and using special editing software, we are able to alter the appearance of patients' smiles in real time to accurately represent the outcome of a variety of treatments. Patients are welcome to take copies of these images with them to share with friends and family before they finalize their treatment plans.
Understanding the Cost of Cosmetic Dentistry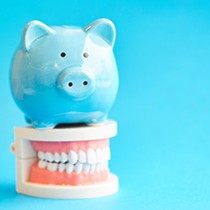 Curious about how much it will cost to attain the smile you've always wanted? Here at ED Family Dental, our team believes that every patient deserves to feel proud of their grin, which is why we work to provide top-quality services that are also cost-effective. Not only can Dr. Shkurti perform a range of different aesthetic services to meet your needs, but our practice also offers financing options to make your treatments more affordable. Read on to learn some important information to consider when it comes to the cost of cosmetic dentistry in Astoria.
Which Cosmetic Dental Service Is Right for Me?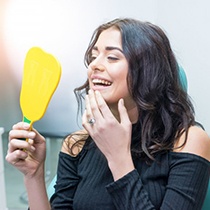 What exactly are you trying to improve about your smile? Would you like teeth that are straighter, whiter, better shaped, or some combination of the above? Naturally, the cost of transforming your smile will depend on the specific changes you wish to make. Below, you'll find a brief breakdown of some of our most popular cosmetic dental services and a comparison of their average price points:
Teeth whitening – Both our in-office and take-home whitening treatments are among the cheapest and quickest ways to dramatically enhance your smile. These solutions can take years' worth of stains off of your pearly whites, but they don't alter the size, shape, or positioning of your teeth. In addition, the results will only last for a year or two at most.
Invisalign clear aligners – This innovative orthodontic method is a convenient and discreet way to address crooked teeth and misaligned bites. Although Invisalign costs more than many other cosmetic options and only improves the alignment of the teeth (not their size or color), it can potentially give you a straighter and healthier smile for life.
Direct bonding – With direct bonding, your cosmetic dentist in Astoria can correct basically any minor aesthetic flaw in your teeth, including chips, stains, cracks, and gaps, using a tooth-colored resin. This treatment, though versatile, will need to be redone every few years.
Veneers – While veneers are on the higher end of the price spectrum, they're arguably the most cost-effective way to completely transform your grin. In just two visits, we can conceal practically any imperfection in the teeth with veneers, and the results can last for well over a decade with minimal maintenance.
Cosmetic Dentistry Can Be Well-Worth the Investment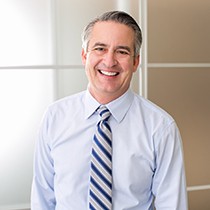 At first, improving the appearance of your teeth might not seem to be worth the money. However, it helps to think of cosmetic dentistry as an investment in you, rather than just your smile. When you're proud of the way your teeth look, you'll be inclined to show them off more often. Studies have shown that frequent smiling can boost your mood, lower blood pressure, and even boost your immune system! Plus, your newfound self-confidence will catch the attention of the people around you, so you may end up with new friends, romantic interests, and even career opportunities.
How to Make Cosmetic Dentistry Affordable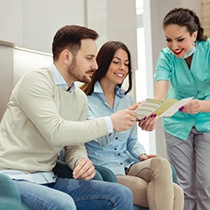 Although cosmetic dentistry is unlikely to receive dental insurance coverage, that doesn't necessarily mean these services are unaffordable. At ED Family Dental, we proudly partner with a third-party financing company called CareCredit, which has helped countless Americans access dental care. Qualified patients are able to split up their dental costs into monthly payment plans, many of which have very little or even zero interest attached.
Our team would love to help you find out how much your smile makeover will cost and your options for fitting your costs into your budget. Call us today to schedule your consultation and get started!
Cosmetic Dentistry FAQs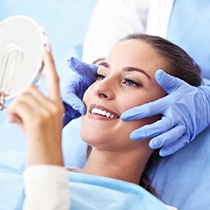 Are you ready to invest in your smile and confidence with one or more of our many cosmetic dentistry services? Even if you are, it's perfectly natural to have a few questions about the process first. That's why your cosmetic dentist in Astoria has taken the time to answer some frequently asked questions in the section below. If you have a question about cosmetic dentistry that isn't answered on this page, just call us and ask!
How Long Will My Results Last?
This depends on which of our services you choose to undergo. Generally speaking, the better you take care of your pearly whites, the longer you can expect the results of your treatment to last. You can extend the lifespan of your new and improved smile by being diligent about your oral hygiene and avoiding bad habits like smoking, teeth grinding, and chewing on extremely hard objects.
How Much Does Cosmetic Dentistry Cost?
Multiple factors affect the price of your cosmetic treatment, so there is no fixed cost of getting cosmetic dental work done. The amount you'll have to pay will typically depend on the degree to which you wish to improve your smile. For example, quick and easy treatments like direct bonding and teeth whitening are often less expensive, but personalized solutions such as porcelain veneers and metal-free restorations can dramatically transform your smile. They also usually offer longer lasting results.
Which Cosmetic Dental Treatment Is the Best?
Just as no two smiles are exactly alike, no one cosmetic service is inherently "better" than another. They all offer unique benefits, and the one that's "best" for you depends on what you hope to accomplish with your smile. For instance, a patient who wants to correct a severely chipped tooth likely won't have the same ideal treatment as someone who wishes to simply brighten their smile as quickly as possible.
During your cosmetic consultation, Dr. Shkurti can go over all of your options, discuss your smile goals, and help you select the best way to achieve your dream smile.
How Long Will It Take to Achieve Results?
In the same vein as cost, there is no set timeline of cosmetic dental services. Different treatments take different amounts of time. Some procedures, like in-practice teeth whitening and direct bonding, can be finished in just one visit to our office, while others, such as porcelain veneers, can take a few appointments over the course of several weeks. The average treatment time for Invisalign can be up to a year or even longer. Again, it all depends on which services you need to improve your smile.
At your consultation, we can lay out a personalized treatment timeline to give you a better idea of how long it will take to achieve the beautiful results you deserve.