Astoria Cosmetic Dentistry Transformations
If you're unhappy with any aspect of your smile, Eduart Shkurti, DDS and his dedicated dental team can help you achieve the picture-perfect smile of your dreams. We offer a full range of cosmetic dentistry services to brighten, straighten, and perfect even the most flawed smiles. At ED Family Dental, we invite patients to contact us to schedule a cosmetic dentistry consultation to explore their options and begin the treatment planning process in partnership with our team.
Porcelain Veneers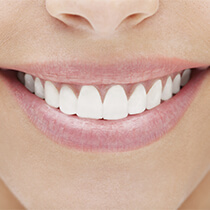 Many patients with extensive chips, cracks, stains, and gaps in their smiles, believe that they will need advanced restorative or orthodontic treatments to renew the appearance of their smiles. However, in many cases, we're able to transform smiles with one simple, minimally invasive treatment – porcelain veneers. These thin sheaths of tooth-colored porcelain fit over the fronts of teeth instantly concealing smile flaws. The process is virtually painless. In fact, most patients don't even need local anesthesia to complete the procedure. Patients who choose porcelain veneers should plan to visit our office two times. During an initial visit, we remove a minimal amount of surface enamel from teeth to allow the veneer to blend seamlessly into patients' smiles. Then, we capture bite impressions that will be used by our dental lab to craft a custom restoration, and place a temporary veneer to protect treated teeth. Once the final restoration arrives at our practice, patients return to exchange the temporary for their custom porcelain veneer.
Metal-Free Dental Restorations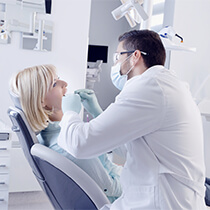 Dental crowns, bridges, inlays, and onlays are an essential part of restorative care, and we offer these restorations in a variety of materials including gold and porcelain bonded to metal. Pure gold restorations offer the most durable solution, but they do not repair the marred appearance of patients' smiles. Porcelain bonded to metal restorations offer an improved cosmetic appearance, but over time, the porcelain layer begins to wear away revealing the darkly colored metal below. Patients looking for a superior cosmetic solution and those with allergies or sensitivities to metal may want to consider metal-free, all-ceramic restorations. Crafted from a single block of high-quality ceramic, precisely shaded to match teeth, all-ceramic restorations retain their cosmetically superior appearance even as the restoration begins to wear. Additionally, this restoration crafted from a seamless block of ceramic is less likely to chip, crack, or break away over time.
Invisalign Clear Braces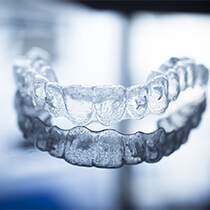 Straightening teeth does not have to mean patients spend years with a mouth full of metal brackets and wires and make countless visits to the orthodontist. We offer straighter smiles in less time without the mouth full of metal using the Invisalign clear braces system. The Invisalign system utilizes a series of clear, plastic alignment trays to gently shift patients' teeth to their ideal position over the course of about a year of treatment. Each set of aligners represents one step closer to the desired result, and patients wear the trays for about two weeks at a time. Following the predetermined wear time, patients exchange the current set of aligners for the next set in the series.
In-Practice Teeth Whitening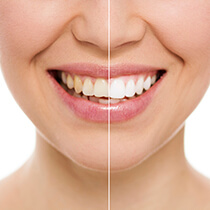 Teeth whitening is one of the most popular cosmetic dentistry solutions available, but many patients visit our office already discouraged by their lack of success with over the counter whitening products. The numerous whitening toothpastes, mouthwashes, strips, and gels available from the local pharmacy promise dramatic transformations, but they are not able to deliver these results. Our professional in-practice whitening treatments use a higher dosage of active ingredient, making them more effective. Additionally, we apply the gel carefully and prevent saliva from accessing the teeth and neutralizing the whitening gel. We allow the whitening agent to remain on teeth for fifteen minutes at a time. Then, we remove and check the progress, and reapply as needed. Patients typically achieve their desired results in about an hour.
At-Home Teeth Whitening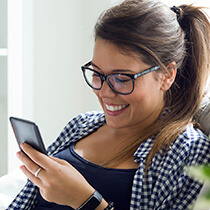 Patients who prefer to brighten their smiles gradually and those with sensitive teeth may prefer our professional at-home whitening kits. Unlike store bought varieties, these whitening products are able to deliver results up to ten shades lighter over the course of two weeks of application. We provide patients with custom crafted application trays that seal professional grade whitener onto the surface of teeth and keep neutralizing saliva out, allowing the whitening gel to remain active and brighten smiles.
Direct Cosmetic Tooth Bonding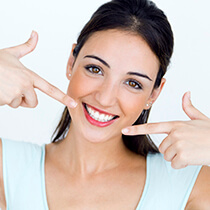 In many cases, direct bonding is a fast, effective method of correcting dental damage in just one visit with little or no loss of natural dental structure. Using composite resin filling material, we can repair or conceal chips, cracks, and gaps in patients' smiles. Unlike porcelain veneers, direct bonding requires just one appointment to complete, saving patients time and money. However, the tooth-colored bonding material is not as durable as porcelain, making it ideal for minor damage but not more extensive cosmetic flaws.
Digital Imaging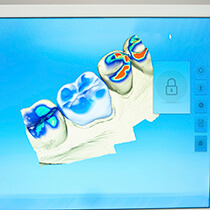 Digital photos allow our team to show patients the potential outcomes of their cosmetic dentistry options dramatically improving the treatment planning process. We capture photos of patients' teeth and smiles, and using special editing software, we are able to alter the appearance of patients' smiles in real time to accurately represent the outcome of a variety of treatments. Patients are welcome to take copies of these images with them to share with friends and family before they finalize their treatment plans.