Astoria Emergency Dental Care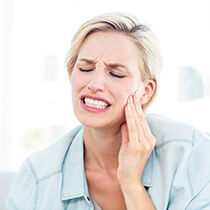 We never like to hear that our patients are in pain or have damaged their teeth, but we know that dental emergencies cannot always be avoided. That's why Eduart Shkurti, DDS and the Ed Family Dental team are happy to offer emergency dentistry services whenever our patients need us. In order to provide the most effective treatment, it's essential that patients contact our office right away if they experience any of the following dental emergencies:
Avulsed (knocked out), chipped, cracked, or fractured teeth
Avulsed, chipped, cracked, or fractured crowns, bridges, or other restorations
Damaged or broken partial and full dentures
Severe toothache and sensitivity to temperature indicative of root canal infection
Sores or infected gum tissue around a specific tooth especially when accompanied by fever or other signs of infection as this may be an abscessed tooth
We provide same day appointments for new and existing patients whenever possible, and always take time to provide patients with guidance to protect their oral and overall health on the phone, if we are unable to see them right away. Proceed to your nearest emergency room if you believe your injuries may be life threatening.