Emergency Dentist - Astoria, NY
Call Us to Get Out of Pain Now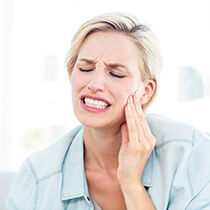 A dental emergency is anything that is bleeding, broken, or causing you pain in your mouth. If you have experienced something that you believe requires urgent care, it is important that you get in touch with your emergency dentist in Astoria right away. Dr. Eduart Shkurti will provide the prompt, professional, and effective care you or your loved one need. Sometimes, receiving treatment right away can make all the difference in saving your smile -- so don't delay!
Most Common Dental Emergencies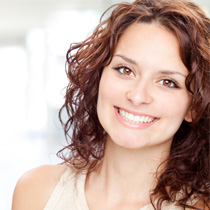 In order to provide the most effective treatment, it's essential that you contact our office after any of the following dental emergencies:
Avulsed (knocked out), chipped, cracked, or fractured teeth. Please collect and store any larger pieces for possible reattachment. Place a knocked out tooth in a cup of water or milk and be careful not to touch the root.
Avulsed, chipped, cracked, or fractured crowns, bridges, or other restorations. Rinse out the mouth with salt water to help clean the area and also ensure that no sharp shards are left behind.
Damaged or broken partial and full dentures. Broken dentures can put your smile at risk of injury, and receiving urgent treatment will ensure that you can continue to eat, speak, and smile with ease.
Severe toothache and sensitivity to temperature indicative of root canal infection. An emergency root canal can help to keep the infection from spreading, which can put your overall health at great risk. In the very worst cases, an infection in the tooth can spread to the brain and result in premature death.
Sores or infected gum tissue around a specific tooth -- especially when accompanied by fever or other signs of infection as this may be an abscessed tooth. Removing the infection as soon as possible will protect your oral and overall health.
How to Handle Dental Emergencies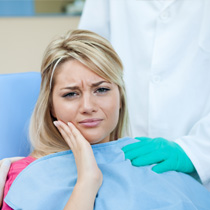 In most cases, your dentist is far better-equipped to handle a dental emergency than the ER. If, however, you believe your injuries may be life threatening, please proceed to the nearest emergency room. Bleeding that does not stop or slow after 10 minutes or a broken bone in the jaw should be treated by a medical professional.
We provide same-day appointments for new and existing patients whenever possible, and always take time to provide patients with guidance to protect their oral and overall health on the phone, if we are unable to see them right away.
Some of the first aid tips to keep in mind when dealing with a dental emergency include:
Rinse the mouth with saltwater to clean the area, remove any broken pieces, and provide a soothing effect.
If you have knocked out a tooth, store it in a cup of milk or saltwater. Avoid touching the root, which can limit our ability to reattach it later.
Stop bleeding by applying consistent pressure with a clean gauze or cloth.
Apply an ice pack to the affected cheek in 10- to 15-minute intervals (10 minutes on, 10 minutes off).
Take ibuprofen as directed to ease discomfort.
Our Commitment to Emergency Dental Care
We're committed to you and your smile, especially when you've experienced a dental emergency. Here's how we demonstrate that dedication.
Right when you call, we will listen to your situation and provide calm, cool, and collected first aid advice to help you think clearly and react properly.
We can offer same-day appointments as necessary.
We're also affordable! We work with dental insurance and also have financing options available.
Don't delay in calling us after a dental emergency -- we'll get to work right away.
Emergency Dentistry FAQs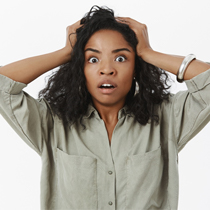 Are you still wondering what's the best way to handle a dental emergency? In a moment of distress and panic, it's easy to become overwhelmed and stressed. The key is to calm down and act efficiently and effectively to prevent further damage and make choices that are best for your health. Being well-prepared can be the difference between saving and losing a tooth. To help with that, we've compiled some common questions we get from patients who find themselves with dental dilemmas on their hands.
What's the safest way to remove an object lodged between my teeth?
Sometimes, if you're experiencing a sharp pain that feels like a toothache, it could be caused by a piece of food or object stuck between your teeth. If that's the case, you can try to gently nudge it out with dental floss by sliding it at an angle through the gap between your teeth. It's best to avoid using any kind of sharp object because it could cause additional damage, leaving you with more discomfort. If dental floss doesn't work, don't hesitate to contact your emergency dentist in Astoria, Dr. Shkurti right away.
What should I do if I have a jaw fracture?
If you believe that you have fractured or broken your jaw, seek immediate medical attention at your local emergency room. Severe head, neck, or jaw injuries can be potentially life-threatening, so it's best to visit a doctor as soon as you can. Once you've gotten the immediate medical care you need, we'd be more than happy to schedule an appointment to take care of your dental needs.
What should I do if my emergency happens outside of office hours?
It's not like you plan your dental emergencies, so if it happens outside of our normal business hours, still be sure to give us a call first. Our voice messaging system will pick up, and we'll be sure to check it first thing in the morning the next day we're open. If you're dealing with a medical issue, be sure to contact a doctor as soon as possible to get treatment.
Should I go to the ER first?
Some dental emergencies require visiting a medical professional first before you come to us. If you are experiencing any of the following, go to your local emergency room or urgent care right away:
Bleeding that doesn't stop after 15 minutes of applying pressure.
Cuts and lacerations that may require stitches.
Fractured or dislocated jaw.
Swelling or a severe toothache that you notice outside of emergency dental office hours.
Once you've received the attention you need, be sure to call us for any of your dental needs.
What should I do if my face is swelling?
If you notice swelling paired with difficulty breathing, you may need antibiotics to treat an infection. In this case, visit your emergency dentist right away. If it is, don't place heat on the affected area because it could result in the infection spreading. However, if your swelling is due to dental trauma, you can bring it down by placing an ice pack on the area.