Astoria Dental Implant Supported Tooth Replacement
Traditional tooth replacement options like bridges and dentures are predictable methods for restoring the appearance and partial function to patients' teeth. However, because they do not replace the underlying root structure, these tooth replacement options rely on support from healthy dental structure that may lead to further damage or tooth loss. Dental implants are titanium posts that replace lost tooth roots and provide support for replacement teeth, making them more comfortable, natural, and stable than other replacement solutions. Patients missing one tooth or a full arch of teeth should contact ED Family Dental to find out more or schedule a dental implant consultation. Our state-of-the-art Astoria, NY dentistry practice offers implant placement and restoration all in one convenient location.
Dental Implant Placement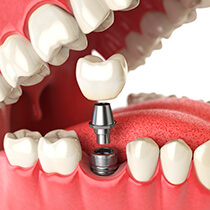 The first step of the dental implant tooth replacement process is the surgical placement of implant posts below the gum line. Dr. Eduart Shkurti makes a small incision in the gum line, and places the implant post. Once the dental implant is in place, a protective covering is positioned over the implant. When the gum tissue has a chance to heal, an abutment is attached to the dental implant. These abutments serve as connections between the implant and dental restorations. Over the course of three to six months, the gum tissue and supportive alveolar bone attaches to the implant post creating a stable supportive structure that mimics the natural root system of lost teeth. This process is known as osseointegration, and it is the key to the success of dental implant supported tooth replacement.
Implant-Retained Crowns & Bridges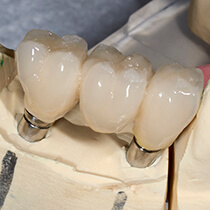 Once the dental implant has fused with the soft tissue and jawbone, we are able to attach a replacement tooth or teeth to the abutment. Patients missing one to four consecutive teeth will likely need an implant supported crown or fixed bridge. To replace a single tooth, we attach a custom crafted dental crown to a dental implant. Two missing teeth in a row can typically be replaced by attaching two connected crowns to a single implant post. Three or four consecutive replacement teeth can be supported by two dental implants, one at each end of the fixed bridge. In some cases of more extensive tooth loss, a series of crowns and fixed bridges may be used to seamlessly replace numerous lost teeth.
Implant-Retained Dentures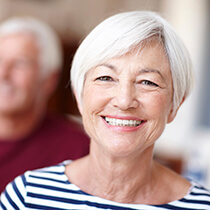 Traditional partial and full dentures are used to repair smiles following significant tooth loss, but both tooth replacement options may potentially damage healthy teeth, gums, and jawbone. The implant retained varieties allow patients to replace any number of missing teeth or a full arch with improved stability and comfort. Partial dentures are used to fill gaps in patients' smiles, and our team places the optimal number of implant posts to provide support for the restoration with a minimally invasive procedure. Full dentures can typically be supported with four to six strategically positioned implant posts. We're happy to offer both fixed and removable options, and in some cases, we're able to refit existing dentures to be attached to implant posts.