Dental Implants – Astoria, NY
A Lasting and Beautiful New Smile
What would it feel like to be able to eat the foods you love or to smile with confidence once again? Do these seem like mere fantasies? With the placement of dental implants in Astoria, your days of living in shame will be over. When you visit our office, Dr. Shkurti will take the time to carefully assess your current state of oral and overall health, and then boost your smile and confidence by surgically inserting dental implants. To get on the path to a brand-new version of yourself, contact us today to schedule your first appointment!
Benefits of Dental Implants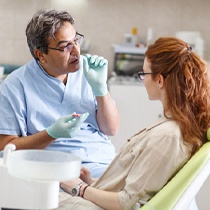 Dental implant insertion is unlike any other form of tooth replacement. Instead of relying on the surrounding teeth to act as abutments or dental adhesive to secure a restoration, dental implants are anchored into the underlying jawbone to mimic the natural function of the missing tooth roots. Here are some of the other benefits you stand to gain:
A natural-looking smile
A long-lasting restoration
A procedure that has a high success rate
The preservation of any surrounding teeth
The ability to carry out your natural functions
Indications for Dental Implants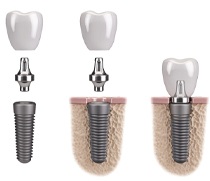 One of the biggest perks of dental implant placement is the versatility that it provides. Whether you're missing a single tooth, several or all of them, there is a solution with dental implant insertion. Here is how the process can be tailored to meet your needs:
Missing Single Tooth
Even if only one tooth is missing, it's important to have it replaced to prevent the surrounding teeth from shifting. The process consists of three major components: the dental implant, abutment (connecting piece) and a final porcelain crown. The apparatus leaves you with a fully functional and aesthetically appealing smile.
Learn More About Missing Single Tooth
Missing Multiple Teeth
For multiple missing teeth, the answer is an implant-retained bridge. Unlike the traditional dental bridge, which consists of several porcelain crowns that are affixed to a single structure that relies on the adjacent teeth to act as abutments, an implant-retained bridge requires no alterations, and it's done in the least invasive manner possible.
Learn More About Missing Multiple Teeth
Missing All Teeth
While a traditional set of dentures is the most common solution for a complete smile reconstruction, there is a more effective way: implant-retained dentures. This process provides the best of both worlds – an attractive smile and full functionality.
Instead of relying on dental adhesive and the natural suction created inside the mouth to secure a set of prosthetic teeth, Dr. Shkurti will place four to six implants per arch that are angled perfectly to provide the most support. Beneath the resin base of your dentures, special snaps or bars will be added that will allow us to permanently fasten your dentures to your dental implants.
Start-to-Finish Dental Implant Treatment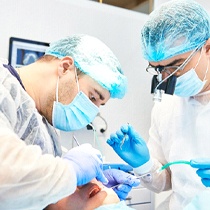 At ED Family Dental, we know that to have any number of dental implants placed is a major undertaking. That's why we take every precaution to ensure patients receive only the best in care. As the utmost means of quality control, we perform the entire procedure, start-to-finish, in our Astoria office.
The process begins with visiting with Dr. Shkurti to have your current oral and overall health evaluated. Therefore, if there is any preliminary work that needs to be done before having your dental implants placed, it can be taken care of promptly so you can move ahead with having your life restored to normal.
Understanding the Cost of Dental Implants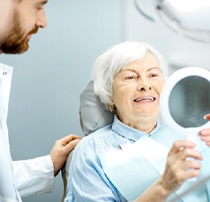 Because the dental implant process is highly customized, there is no set price for this form of treatment. However, there are some parameters that your dentist in Astoria will use to determine what the final cost will be. They include the number of teeth you have remaining, the condition of your oral health and the amount of viable jawbone that remains.
Also, to eliminate any confusion, each step of the process is itemized, which includes the initial placement of the implant, followed by the abutment and then the final restoration. Based on these factors, you'll be given an accurate cost estimate so you can plan accordingly.
Once you're fitted with your new teeth, with proper care, which includes brushing and flossing twice daily, visiting Dr. Shkurti regularly for check-ups and avoiding hard foods, you'll be able to enjoy your amazing results for decades!
How Dental Implants Work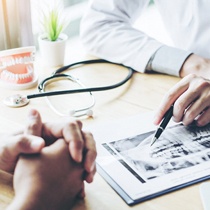 It can be a daunting process to choose the best restorative treatment that fits your lifestyle, especially because there are so many to choose from. Knowing how the process works and what you can expect is a great way to help you feel confident in your decision to get dental implants. With so many benefits to offer, there's no wonder why they come so highly recommended by patients and professionals alike. If you're wondering how dental implants work and what the process will be like from start to finish, Dr. Shkurti can outline everything for you during your initial consultation.
Advanced Dental Implant Procedures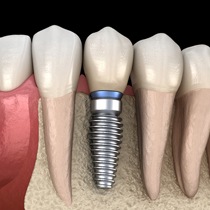 Dental implants can last for decades with the right foundation, like a strong, healthy jaw. Unfortunately, if you've had periodontal disease, prolonged untreated tooth loss, or another issue, the density of your jawbone might be compromised. As a result, you won't be a candidate for dental implants, but that doesn't mean you can't become one. Advanced procedures can enhance the thickness of your jaw to ensure it's strong enough to support your dental implants. Although it can add another step in your treatment, it's time well spent to ensure your new smile lasts for a lifetime.
Dental Implant FAQ's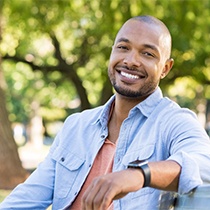 If you're considering dental implants to replace your teeth, you probably still have some questions. Dr. Shkurti wants to ensure that you have the information you need to make a confident and informed decision, which is why he's provided the answers to some of the most frequently asked questions about dental implants in Astoria. Keep reading to take your first step toward a healthy and complete smile.
Am I a Candidate for Dental Implants?
You may be wondering if you're an ideal candidate for dental implants. The best way to know if this treatment is right for you is to visit our office for a consultation, where Dr. Shkurti will carefully examine your smile before making the proper recommendations. However, candidates for dental implants will typically have:
A commitment to at-home oral healthcare
A strong enough jawbone to accommodate the treatment
Quit smoking if they use tobacco products
At least one missing tooth
Does My Dental Insurance Cover Dental Implants?
If you're researching dental implants, cost may be at the top of your mind. While it varies on a case by case basis, dental insurance typically won't cover dental implants. However, that doesn't mean that we can't help you save money. Our front desk staff are pros at maximizing your dental insurance while minimizing your out of pocket costs. Your insurance may be able to cover certain aspects of the process like your consultation and restoration, but this will all depend on your plan.
Can Dental Implants Help with My Dentures?
If you have dentures, you may experience slipping and sliding when you talk or chew. This is not only uncomfortable, but it can be embarrassing as well. Thankfully, Dr. Shkurti can support your denture with dental implants, allowing you to enjoy a strong and sturdy smile. He can custom make dentures to attach to implants, giving you the ability to chew through all of your favorite foods and speak without worrying about your denture coming loose. The best part is that a denture can replace an entire row of missing teeth in Astoria all at once!
Does the Dental Implant Process Hurt?
The dental implant process may seem a little intimidating given that it requires surgery, however there is nothing to worry about! Patients who have received implants relate the procedure to a simple tooth extraction. We will ensure that you're numb and comfortable before beginning, and we offer various forms of sedation for a deeper sense of relaxation. Additionally, your jawbone doesn't contain many pain sensing nerves, making the procedure more comfortable than you may have thought.
What Can I Expect During Recovery?
Once you've received your dental implants, it's important to allow them to integrate into your jawbone, a process that takes about 3 to 4 months. During the first few days of recovery, it's completely normal to feel some soreness, and you may experience bruising. We will give you pain medication that can help manage this problem, and you can also use a cold compress to numb some of the discomfort. Additionally, it's vital to watch what you eat during the first 24 to 48 hours after getting implants, eating only liquids are extra-soft foods.
If you have any other questions, or if you want to schedule your initial consultation, call our office today!
Dental Implant Aftercare
Are you getting dental implants soon? At ED Family Dental, we want you to be able to enjoy your newly remodeled smile for as long as possible, which is why we emphasize good implant aftercare. With the proper care, your newly improved smile can have a lifespan of up to 35 years, which is nearly three times as long as the average life of traditional restorations!