Metal-Free Restorations – Astoria, NY
Restore Your Teeth without Metal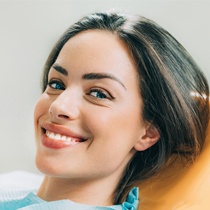 Decayed or damaged teeth are routinely treated with metal fillings or crowns because they are effective and durable. They provide a reliable long-term solution, but their dark appearance is very noticeable when speaking or smiling. Not to mention, many people are concerned about using metal to repair teeth. Now, you can enjoy a biocompatible solution that looks natural using metal-free restorations in Astoria. Dr. Eduart Shkurti uses the latest technologies and high-quality materials to create tooth-colored crowns and fillings that blend in with your teeth.
Tooth-Colored Fillings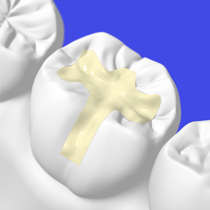 Amalgam fillings have been the go-to solution to treat cavities because they are durable and cost-effective. Recently, there has been a lot of debate about their safety because they contain mercury. The American Dental Association supports their use as a safe treatment for tooth decay; however, they still come with several disadvantages, such as a noticeable appearance and the darkening of your tooth over time.
Tooth-colored fillings resolve these common concerns because they do not contain any metals to give you a biocompatible treatment. They are made from fine glass and plastic particles, which allows the resin material to be customized to match the color of your enamel. They will blend in seamlessly with your teeth, so no one can tell they are there.
Not only do they treat decay, but they also help to preserve your tooth. Composite fillings do not require wedges to be cut into your tooth to support them. This keeps more of your healthy tooth intact to protect its structural integrity.
All-Ceramic Crowns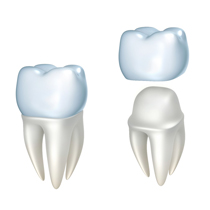 Crowns are widely used in restorative and cosmetic dentistry because they are very versatile. Covering the entire visible portion of a tooth with the custom-made cap improves its strength, health, and appearance. Now, crowns are made from several different materials, including metals and porcelain-fused-to-metal. Although they are a reliable treatment, they do not look natural.
Now, you can transform your tooth using all-ceramic materials. This allows your crown to be customized to match your exact size, shape, and color needs. Your cosmetic dentist in Astoria, Dr. Shkurti, takes a digital impression of your tooth to get the exact measurements necessary to ensure its accuracy to maintain your oral functions.
Although no metal is used to make the restoration, rest assured it is equally durable. In fact, it can last for an average of 10 years before needing to be replaced if you care for it properly.
How Much Do Metal-Free Restorations Cost?
Metal-free restorations are considered cosmetic treatments, which generally are not covered under dental insurance; however, if they can also improve your oral health, your benefits may cover a portion of their cost. Dr. Shkurti provides you with a custom estimate and maximizes the value of your policy to reduce the amount you need to pay out-of-pocket. ED Family Dental also accepts a variety of payment options, including CareCredit, to keep your treatment affordable.
Schedule an Appointment
Do not let a dark filling or crown hurt your confidence. Enjoy natural-looking results for a beautiful smile with metal-free restorations. Contact our office today to schedule your consultation.