Astoria Invisalign Clear Braces
Traditionally, straightening teeth meant completing advanced orthodontic services that used brackets and wires to shift the smile into alignment. Today at ED Family Dental in Astoria, we are happy to offer a quicker, cosmetically superior alternative – Invisalign clear braces. If you want to learn more about your Invisalign and our other treatment options, call our Astoria dentistry practice to schedule an orthodontic consultation appointment with us today. We'll review your treatment goals, evaluate your current bite alignment, and partner with you to create an orthodontic treatment plan that will give you the flawless and functional smile you deserve.
What is Invisalign?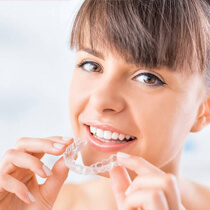 Invisalign is a unique orthodontic treatment plan that utilizes clear alignment trays rather than brackets and wires to shift teeth into their ideal alignment. In the past, Invisalign was only used to adjust minor alignment concerns like spacing, but today, we can utilize the Invisalign clear braces system to treat more advanced issues like over, under, and crossbite.
How does Invisalign Work?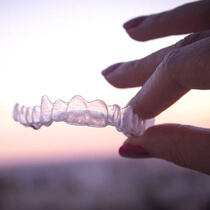 Invisalign clear braces plans use a series of plastic alignment trays to shift teeth into their desired position. Every set of aligners is crafted precisely to represent the placement of teeth a step nearer to the results you're after. Patients wear the aligners for two weeks at a time. Then, simply exchange their current alignment trays for the next in the series. For eight to eighteen months you'll continue your Invisalign treatment until you achieve the desired end result. Throughout treatment, you'll only need to visit our office every six to eight weeks for short checkup exams. During these periodic checkups, we simply make sure your smile is shifting according to the current plan, and our team can make adjustments to ensure you achieve your desired results in the time you planned.
Who Should Consider Invisalign?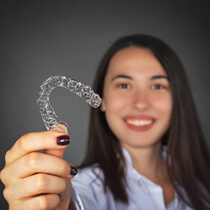 Before beginning an orthodontic treatment plan, patients should take the time to consider all of their options. Those patients who are most likely to benefit from treatment with Invisalign include:
Patients who can't fit frequent orthodontist appointments into their schedules
Those who have allergies or sensitivities to metal
Those who want to maintain their professional images during orthodontic treatment
Patients who don't want to change their diets or oral hygiene routines significantly
What are the Benefits of Invisalign Orthodontics?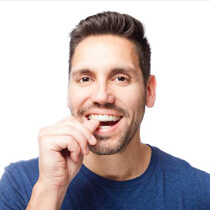 There is no treatment that is right for every patient, so in order to choose the best treatment to meet your needs, you'll need to consider the advantages of each option. Some of the many benefits of Invisalign treatment include:
Natural appearance – your smile will look flawless throughout treatment
Comfort – low profile, smooth, metal-free aligners reduce potential irritation
No hassle – there's no need to change your diet or oral hygiene routine
Saved time – you'll have fewer appointments throughout treatment and most patients complete the process within 12 months