Invisalign Clear Braces - Astoria, NY
Straighten Your Teeth to Achieve a Flawless Smile
Traditionally, straightening teeth meant completing advanced orthodontic services that used brackets and wires to shift the smile into alignment. Today at ED Family Dental in Astoria, we are happy to offer a quicker, cosmetically superior alternative – Invisalign clear braces. If you want to learn more about your Invisalign and our other treatment options, call our Astoria dentistry practice to schedule an orthodontic consultation appointment with us today. We'll review your treatment goals, evaluate your current bite alignment, and partner with you to create an orthodontic treatment plan that will give you the flawless and functional smile you deserve.
What is Invisalign?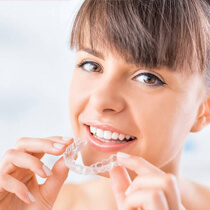 Invisalign is a unique orthodontic treatment plan that utilizes clear alignment trays rather than brackets and wires to shift teeth into their ideal alignment. In the past, Invisalign was only used to adjust minor alignment concerns like spacing, but today, we can utilize the Invisalign clear braces system to treat more advanced issues like over, under, and crossbite.
How does Invisalign Work?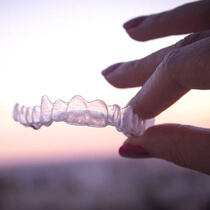 Invisalign clear braces plans use a series of plastic alignment trays to shift teeth into their desired position. Every set of aligners is crafted precisely to represent the placement of teeth a step nearer to the results you're after. Patients wear the aligners for two weeks at a time. Then, simply exchange their current alignment trays for the next in the series. For eight to eighteen months you'll continue your Invisalign treatment until you achieve the desired end result. Throughout treatment, you'll only need to visit our office every six to eight weeks for short checkup exams. During these periodic checkups, we simply make sure your smile is shifting according to the current plan, and our team can make adjustments to ensure you achieve your desired results in the time you planned.
Who Should Consider Invisalign?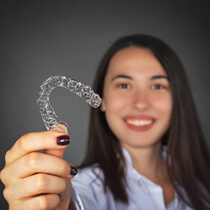 Before beginning an orthodontic treatment plan, patients should take the time to consider all of their options. Those patients who are most likely to benefit from treatment with Invisalign include:
Patients who can't fit frequent orthodontist appointments into their schedules
Those who have allergies or sensitivities to metal
Those who want to maintain their professional images during orthodontic treatment
Patients who don't want to change their diets or oral hygiene routines significantly
What are the Benefits of Invisalign Orthodontics?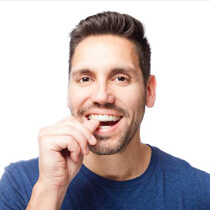 There is no treatment that is right for every patient, so in order to choose the best treatment to meet your needs, you'll need to consider the advantages of each option. Some of the many benefits of Invisalign treatment include:
Natural appearance – your smile will look flawless throughout treatment
Comfort – low profile, smooth, metal-free aligners reduce potential irritation
No hassle – there's no need to change your diet or oral hygiene routine
Saved time – you'll have fewer appointments throughout treatment and most patients complete the process within 12 months
Understanding the Cost of Invisalign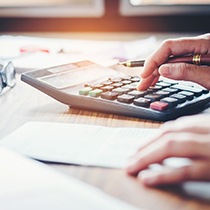 Invisalign in Astoria is widely known for its virtually incognito trays and quicker treatment timeline, but how much does it cost exactly? While there is no all-encompassing answer, there are a few factors that play a role in the final price across the board. Keep reading to learn what they are, as well as which options are available to make achieving your dream smile affordable.
Factors that Affect the Cost of Invisalign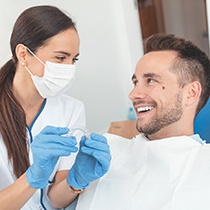 To address each person's unique dental needs, Invisalign is completely customized. As a result of not providing a "one-size-fits-all" treatment, there is no "one-size-fits-all" price. Therefore, the cost can vary from patient to patient based on:
Whether you are straightening both your top and bottom arches.
The overall complexity of your treatment (ex: addressing one small gap vs. correcting severe crowding).
The length of the proposed treatment.
Invisalign VS Smile Direct Club™: Which Costs More?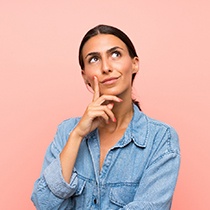 Does Dental Insurance Cover Invisalign?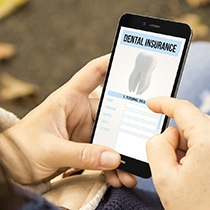 Since many plans don't include coverage for orthodontic treatment, Invisalign is typically an out-of-pocket expense. With that being said, that isn't always the case, which is why it is good to check with your provider! If you need any assistance with the process, don't hesitate to let our team know. Otherwise, you can use your FSA account (if you have one through your employer) to cover the cost.
Options for Making Invisalign Affordable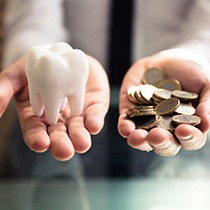 If you don't have an individual dental plan or one through your employer, you'll be happy to know that there is another option: CareCredit. This third-party financier allows you to break up the cost of even the most extensive treatments into monthly, budget-friendly payments. That way, your dream smile is never out of reach. Ask us about utilizing this financial option at your initial consultation!
If you want to straighten your teeth in Astoria, then we are here to help. To ensure your experience is as seamless and stress-free as possible, we encourage you to schedule an initial consultation. From there, we can ensure you are a candidate, learn more about your smile goals, and discuss all the financial details. Give us a call today to schedule yours!
Invisalign FAQs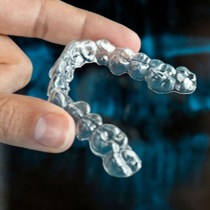 It is natural to want as much information as possible before making a big decision, especially when it's in regard to your health and physical appearance. That is why we have compiled some of the most common questions – and answers – about Invisalign clear braces. We hope you find our Invisalign FAQ page helpful in answering some of your questions and determining if this treatment is right for you.
After you are finished reading, give us a call at our convenient Astoria location to schedule a consultation with Dr. Shkurti. You will be glad you did!
Does Invisalign Hurt?
When you first start wearing a new set of Invisalign aligners, your teeth may feel a little sensitive for a day or two. This mild discomfort is a sign that Invisalign is working and your teeth are gradually shifting into the desired position. Any discomfort you feel will be temporary and should fade quickly.
How Often Must I Wear My Aligners?
You are key to the success of your Invisalign treatment! Wearing your aligners for the recommended number of hours a day – typically 20 to 22 – is critical to straightening your smile on schedule. Invisalign aligners are easily removable, so you can take them out whenever you eat a meal or clean your teeth – just be sure to put them back in afterwards.
How Do I Keep My Aligners Clean?
You can keep your Invisalign aligners clean by gently brushing them with a toothbrush and toothpaste once per day. After brushing your aligners, rinse them with lukewarm water – never with hot water. Using hot water on aligners can permanently warp the plastic.
Are Invisalign Aligners Chemically Safe?
You can rest easy when wearing your Invisalign aligners. The clear plastic trays are made from medical-grade thermoplastic polymers that have been approved by the Federal Drug Administration (FDA) for long-term use inside the human body. According to the manufacturer, the biocompatible aligners do not contain any traces of Bisphenol A (BPA), latex, parabens, phthalates, glutaraldehyde or epoxy.