Root Canal Therapy - Astoria, NY
Relieve Toothache Pain Today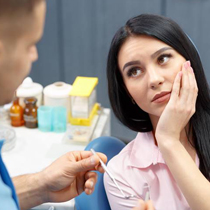 Root canals have developed a bad reputation over the years. Most patients associate the need for root canal therapy with pain and discomfort. If you've recently been informed you need a root canal, the ED Family Dental team has good news for you – a root canal may actually relieve toothache pain! These restorative treatments allow us to remove damaged tooth structure, and they can actually save teeth that would otherwise need to be removed. If you need a root canal, take a deep breath. Then, give our Astoria dentistry team a call. We'll schedule an appointment for you to come in to see us as soon as possible, so you don't have to deal with the pain and sensitivity that proceeds these treatments for one second longer than you have to.
What is a Root Canal?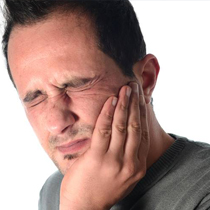 A root canal is a procedure that removes damaged tissue that has accessed the innermost layer of the tooth. Called pulp, this interior layer is where the tooth's nerve is housed. When decay or damaged parts of the tooth are able to access the nerve, patients experience the tooth pain or sensitivity that gives root canals a bad name. By removing and replacing this pulp and nerve tissue, we save the tooth and relieve toothache pain almost immediately.
How Will I Know I Need a Root Canal?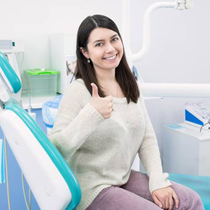 The only way to know for certain that you need a root canal is to visit our office for a consultation. We do see many patients in need of a root canal on an emergency basis, so please call our office if you experience any of the following warning signs:
Severe toothache centered around an individual tooth
Sensitivity to changes in temperature that lingers
Darkening or discoloration of a single tooth
Inflammation or infection in the soft tissue around a single tooth
How are Root Canals Performed?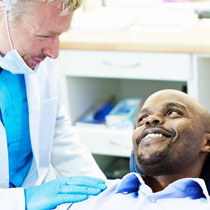 Root canals are straightforward procedures. We begin by numbing the area around your damaged tooth to make sure you're completely comfortable. Then, we drill a small hole from the top of your tooth into the pulp. Next, a series of files are used to remove the damaged tissues and any infection. In some cases, we need to complete your root canal until after you've received a course of antibiotics. This reduces the risk of reinfection or further damage. Once your tooth is free of infection and damaged tissue, we refill the pulp layer with a biocompatible substance. We reseal the access hole, and typically, we recommend placing a dental crown to protect the repaired tooth.
What Happens After Root Canal Therapy?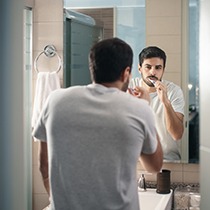 Following root canal therapy, you will likely experience significant relief from the toothache and sensitivity you experienced before we got started. You may experience some swelling or inflammation around the treated tooth, but in a few days, you should be able to go right back to speaking, chewing, and smiling with complete confidence thanks to your newly restored smile. If you have a ceramic or porcelain dental crown placed to protect the treated tooth, make sure to use soft bristled toothbrushes and minimally abrasive toothpaste to avoid excessive dental wear.
Root Canal FAQs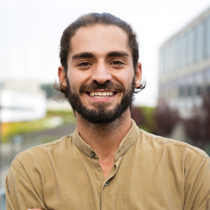 Are you still scared or worried about having to get a root canal? Facing the unknown can cause your thoughts to spiral and amp up your anxiety before your procedure. We're here to set the facts straight so you know that you don't have anything to fear. We've answered some common questions and concerns we get from our patients so you can be confident in your decision to save your natural tooth.
Why do I need a root canal?
Root canals are typically used to treat tooth infections. Without timely intervention, the issue could spread to surrounding teeth and impact other parts of your body, making it important to address the issue as soon as possible.
When a cavity goes left untreated, it can create a path of dental decay that leads to the innermost fragile portion of your tooth called the chamber. This is where the pulp that contains thousands of nerves hides out. The path of decay has left this sensitive pulp vulnerable to being attacked by harmful oral bacteria, causing an infection and severe tooth pain in Astoria. Root canals remove this damaged pulp, keep the infection from spreading, and helps save your natural tooth. That way, you can enjoy your home-grown smile for decades longer.
Is there an alternative to getting a root canal?
We get this question a lot, mainly because patients are so terrified of the procedure when they really have nothing to be scared of. The only alternative to having root canal therapy in Astoria is having a tooth extracted. We typically only resort to removing your natural tooth if it's absolutely necessary, because once it has been removed, you'll need to replace it. Having a gap in your mouth can increase your risk of developing oral health problems and result in jawbone deterioration as well, which are long-term issues that we want you to avoid.
Are root canals painful?
Although root canals have a bad reputation for being painful, you don't have anything to worry about. During your procedure, Dr. Shkurti will completely numb the area that he will be treating. That way, you won't be able to feel a thing. Afterward, you may notice some tenderness and soreness around your jaw area, but it's nothing that can't be handled with over-the-counter pain medication. If you notice any severe discomfort or pressure that lasts for several days after your procedure, be sure to contact our office immediately.
How long does the procedure take?
Depending on the severity of your tooth infection, some root canals may take longer than others. However, they typically last between 30 and 90 minutes. If they're more serious, we may suggest doing the root canal over the course of several appointment to let the tooth dry and be disinfected a second time before filling it.