Soft Tissue Laser – Astoria, NY
Enjoy Less Pain and a Quicker Recovery
You deserve to benefit from the best when it comes to your oral health. At ED Family Dentistry, Dr. Eduart Shkurti strives to provide the latest innovations in dentistry to enhance your comfort while helping you achieve a healthy, beautiful smile. One of the many advancements you will enjoy is the Epic-10 soft tissue diode laser. Now, you can discover the difference in care with a soft tissue laser in Astoria.
What is a Soft Tissue Laser?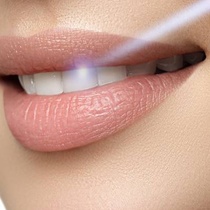 Handheld scalpels and drills have held a commonplace in dentistry for decades. Although they are effective, they are also invasive. At ED Family Dentistry, we believe you should have alternative options to common dental procedures, which is why we embrace the latest technologies. Soft tissue lasers eliminate the need for scalpels while also delivering more precise results.
The Epic-10 laser has been available in the U.S. since 2012. Since then, it has been a preferred choice for diode lasers because of the benefits it provides for surgery, pain relief, and even teeth whitening. It uses a highly concentrated beam of light energy to target specific tissues. This improves accuracy for more effective treatments. With pinpoint precision, it leaves more healthy tissue untouched for unmatched results.
The laser also kills 99% of bacteria while it cuts. This not only makes it a great option for treating gum disease, but it also promotes recovery time by decreasing the risk of infect. Soft tissue lasers also cauterize while they cut to reduce the occurrence of bleeding. Overall, you enjoy a simpler recovery with less pain and risks of complications.
Benefits of Soft Tissue Laser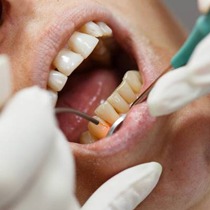 A soft tissue laser offers a wide range of benefits when used in several dental settings. It often eliminates the need for scalpels and sutures to provide unmatched results when compared to traditional surgical treatments, including:
Improved accuracy to target specific tissues.
Less need for sutures.
Anesthesia may not be needed.
Leaves more healthy tissue untouched.
Kills 99% of bacteria.
Less invasive.
Reduced risk of bleeding.
Reduced risk of infection.
Stimulates healthy tissue growth.
Less postoperative pain.
More effective results.
A soft tissue laser also allows many treatments to be virtually pain-free. In fact, 90% of patients report they do not require anesthesia when a soft tissue laser is used.
How Can a Soft Tissue Laser Help Me?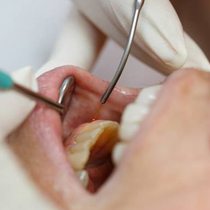 Soft tissue lasers are now used throughout the dental field. The Food and Drug Administration approves them as safe for both children and adults. ED Family Dental uses the laser to aid several treatments and procedures, including:
Frenectomy & frenotomy
Uncovering dental implants
Exposing subgingival caries
Tissue biopsies
Periodontal therapy
Treating ulcer or cold sores
Pain relief from soft tissue irritations
Soft tissue crown lengthening
Flap surgery
Promote clotting to control bleeding.
Draining oral abscesses
Exposing impacted teeth
Teeth whitening
Pain relief from TMJ disorders
Experience the Difference Today!
Your dentist in Astoria provides the modern dental care you need to ensure your smile lasts for a lifetime. Contact our office today to least more about laser dentistry.