Advanced Dental Technology
Giving our patients the whole, healthy smiles they deserve starts with using the latest dental techniques and technologies to deliver the most comfortable and effective treatments. Dr. Eduart Shkurti and invests time each year in continuing education in order to offer the latest in state-of-the-art dental care. From early diagnosis and effective treatment planning to cosmetic gum recontouring, innovative dental technology is an essential part of care at ED Family Dental. Contact our Astoria, NY dentist and team to find out more or schedule an appointment today.
Intraoral Photography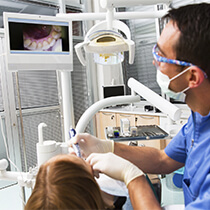 One of the most profound ways technology has impacted the patient experience is through the integration of intraoral photography. These crystal clear images of patients' teeth allow Dr. Shkurti to show patients areas of decay or damage, and carefully provide detailed descriptions of patients' treatment options all while providing enlarged, color coded, or otherwise enhanced visuals to improve patient understanding and confidence in treatment planning decisions. We capture these photos using a specially crafted intraoral camera that resembles a pen. The images are immediately available on chairside computer monitors, and are an integral part of our treatment planning process for cosmetic and restorative care as well as patient education.
Digital X-Rays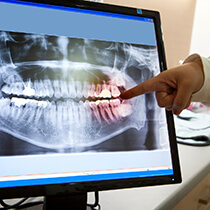 Dental radiography is an essential part of early diagnosis and conservative treatment planning, but traditional x-rays were uncomfortable to capture, time consuming to develop, only visible using specialized light boards, and had to be physically stored and transferred. Perhaps most significantly, these x-rays only offered low definition images of the inner workings of patients' smiles. We utilize digital x-rays in order to have the clearest images of developing dental structures and the interior portions of patients' teeth. Using these high-definition images, we're able to diagnose and treat tooth decay and developmental issues in earlier stages. Digital x-rays are also immediately available on chairside monitors, and can be instantly transferred and saved.
Digital Impression System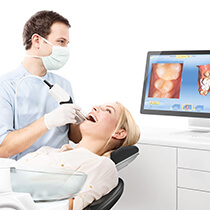 Traditional bite impressions are collected by having patients physically bite into a putty-like material that captures the shape of prepared teeth. These impressions are used by dental labs to create custom crowns, bridges, veneers, and other restorations. Digital impressions capture the pits and grooves in patients' teeth more precisely than traditional impressions with improved patient comfort, and they are immediately available via digital file, allowing our lab to begin crafting restorations more quickly for a shorter treatment time.
Soft Tissue Laser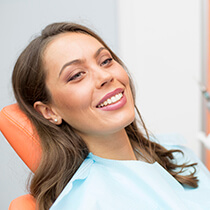 We use our soft tissue laser to perform a number of cosmetic and restorative dentistry procedures quickly and comfortably. Laser dentistry services at ED Family Dental include scaling and root planing to renew oral health for patients suffering from gum disease and gum reshaping procedures to offer patients the ideal cosmetic appearance. Unlike traditional methods for these procedures that require scalpels and sutures, laser dentistry is more precise and typically does not require stitches. Instead, the low-heat laser simultaneously removes damaged tissue and cauterizes the treatment site for improved healing time.