Restorative Dentistry in Astoria
Patients with damaged or decayed teeth often wait longer than they should to contact their dentist because they believe the problem will clear up on its own or that it won't get any worse. Unfortunately, most oral health issues worsen the longer they are left untreated. Dr. Eduart Shkurti and his dedicated dentistry team have the training and experience to repair damaged teeth and renew oral health to give our patients the best chance at keeping their whole, healthy smiles for a lifetime. Contact us right away if you experience dental damage or decay.
Dental Crowns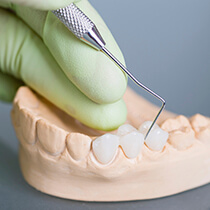 Dental crowns are custom crafted restorations that allow our team to repair even significantly decayed or damaged teeth. These restorations are crafted from a number of materials including gold, porcelain bonded to metal, and metal-free ceramic. Regardless of the material chosen, dental crowns fit over the top of damaged teeth restoring the full form and function. Two appointments are necessary to complete dental crown restoration. During the initial visit, a small amount of structure is removed to accommodate the restoration, digital bite impressions are captured, and a temporary crown is placed to protect the prepared tooth. Once we receive the custom crown, patients return to our practice to exchange the temporary for their permanent crown. In addition to restoring damaged teeth, dental crowns can be used to protect root canal treated teeth. Dental crowns can be attached to healthy teeth to support a fixed bridge replacing one to three missing teeth.
Learn more
Full Mouth Dental Reconstruction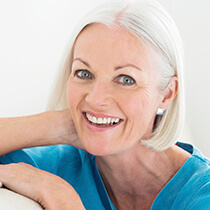 Following extensive dental decay or damage, the dedicated ED Family Dental team offers a full range of dentistry services to renew oral health. Whether patients need to replace one or more missing teeth, repair damaged teeth, or realign their smiles, our team carefully creates a full mouth reconstruction plan that fits each patient's needs, restores damaged teeth, and preserves the maximum amount of natural dental structure. Each treatment is specifically selected to fit within the individual's needs, budget, and schedule. Full mouth reconstruction plans may combine any number of cosmetic and restorative services to renew oral health following even severe dental damage.
Tooth-Colored Fillings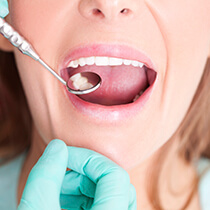 Fillings are used to repair decay or minor ships and cracks in patients' teeth. Traditionally, a silver-colored amalgam material was used for dental fillings, but in addition to their less-than-ideal appearance, amalgam fillings also expand and contract within patients' smiles potentially causing further dental damage or allowing bacteria between the filling and enamel leading to additional tooth decay. We use tooth-colored fillings crafted from composite resin to flawlessly repair smiles. The malleable composite resin is directly placed onto the surface of teeth where it is shaped into position and hardened in place with a curing light. Once the filling is ideally positioned, we polish and seal the tooth to complete the repair.
Root Canal Therapy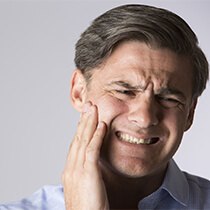 Root canals are frequently considered painful and frightening, but these procedures safely and effectively repair teeth when decay has accessed the inner-most pulp layer where the nerve system is housed, causing significant pain. The procedure requires our team to drill a small access hole in the tooth, extract the damaged pulp and nerve tissue, and refill the treated tooth. In most cases, we need to place a dental crown over the tooth to restore the full form and function.
learn more
Tooth Extractions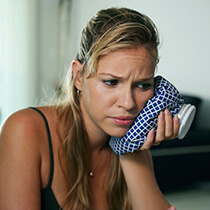 Partial & Full Dentures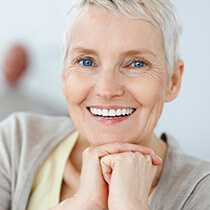 Following extensive tooth loss, a patient's appearance is marred, but perhaps more importantly, the ability to chew thoroughly and speak clearly may also be impacted. Needless to say, it's essential that patients replace missing teeth quickly to ensure their quality of life. Partial dentures are crafted to fill in any number of gaps in patients' smiles by setting replacement teeth into a gum colored base. The partial is then attached to remaining teeth with metal clasps. A full denture combines an entire arch of replacement teeth with a larger base that is crafted to fit firmly against the gums creating suction to hold the prosthetic in place.
learn more