TMJ Therapy - Astoria, NY
Restore Your Jaw Function
Temporomandibular joint dysfunction (TMD) occurs when the joints connecting the jawbone to the skull are strained or damaged. This may occur for a number of reasons including excessive use and facial trauma. Whatever the cause, TMD can be extremely painful or significantly limit the movement of a patient's jaw. Eduart Shkurti, DDS has years of training and experience to offer accurate diagnosis and effective treatment for patients suffering from TMD. At ED Family Dental, we welcome patients from the Bronx and other Burroughs to contact our Astoria, NY dentist and team to schedule an appointment.
Diagnosis & Treatment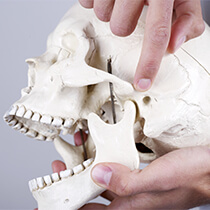 TMD has numerous causes, and the symptoms can be just as varied. We encourage patients to contact our team right away if they experience any of the following warning signs of TMJ dysfunction:
Jaw pain
Inability to fully open or close the mouth
Clicking or grinding sound when opening and closing the mouth
Chronic headache, earache, neck pain, or backache
These side effects of TMD may seem innocuous at first, but left untreated, this dysfunction may cause even the simplest activities like chewing or speaking to be painful or impossible. We offer a number of treatment options to help relieve TMJ pain and restore full, comfortable jaw function including joint stretching exercises and wearing an oral appliance while sleeping. If patients do not achieve the desired result, we may recommend occlusal adjustment.
Occlusal Adjustments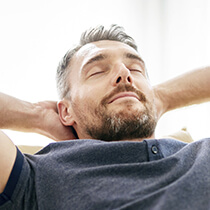 In more advanced cases of TMD, patients may need to adjust the position of their jaw. By achieving a more ideal alignment, the jaw may undergo less unconscious shifting to seek a comfortable position, and experience decreased strain during use. In most cases, we'll attempt minimally invasive treatment options prior to occlusal adjustment, but when necessary, we offer a variety of solutions. Depending on the severity of the occlusal misalignment, we may recommend orthodontic care, oral appliance therapy, or surgical treatments.
TMJ Therapy FAQs
TMJ disorder, also known as TMD, can be a complicated issue to handle on your own. That's why it pays off to have an expert like Dr. Eduart Shkurti by your side. If you are unsure about pursuing treatment or about TMD in general, ED Family Dental has got you covered. Below, you can read a few of the most common questions we receive regarding the condition and what you can expect from TMJ treatment in Astoria. If you have another question that isn't listed, please give us a call!
How do I know it's my TMJ causing me issues?
TMJ issues can easily go unnoticed, even during common doctor's appointments like routine physicals. Dr. Shkurti has studied the way the jaw moves and debilitating conditions that can affect it for many years now, so seeing him is a great place to start. Since TMD can cause a large variety of symptoms, it helps to have a professional confirm them individually. This will also make it easier to determine the best treatment option for you.
What does the treatment process look like?
Dr. Shkurti will first perform a detailed exam of your mouth and jaw, then capture a series of X-rays to examine your jaw joints more closely. During this portion of your visit, he can confirm if undue stress is being applied to them. From there, he'll create a treatment plan that specifically addresses your needs. Not only can he stop your current symptoms, including chronic headaches and jaw pain, but he can prevent long-term issues like upper back pain.
How long does treatment take?
There are a few different factors that can influence the length of your treatment time. For one, if you have a severe case of TMD, that will require more time and examination to resolve. If you have your jaw pain due to a physical injury, rather than long-term bite problems, that can also influence your treatment length. Once you do arrive and receive an exam, we can explain how long your treatment may take depending on your specific case. In some instances, you may start noticing improvements in your symptoms in as little as one week of using an orthotic device. With that said, we will never rush your treatment or let you leave feeling unsatisfied.
Will I have to worry about relapses in discomfort?
When your jaw is injured or there is muscle tension, discomfort can come back in the future. Additionally, if you no longer wear the oral appliance prescribed to you, either because it's lost or damaged, your muscles can continue to tense up. This inevitably causes discomfort in your head, neck and even upper back. To reduce these instances, also known as TMD-flareups, always make sure to visit our practice for follow-up appointments and follow all instructions provided by Dr. Shkurti.