Astoria Dentures & Partials
At ED Family Dental of Astoria, we work with our patients to develop and maintain healthy, beautiful smiles, but for those patients who have experienced serious oral health concerns or advanced tooth loss, we're here to help you repair your smile. If you're struggling with the loss of numerous teeth or a full row of teeth, call our team to schedule a tooth replacement consultation appointment today. We offer a wide range of restorative dentistry solutions, including partial and full dentures to renew oral health and function.
What are Partial Dentures?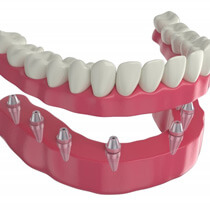 Partial dentures are advanced tooth replacement prosthetics used to restore a number of consecutive and nonconsecutive missing teeth. The partial denture is molded to fit between remaining teeth, and it's held in place with clasps that attach to healthy dental structures.
What are Full Dentures?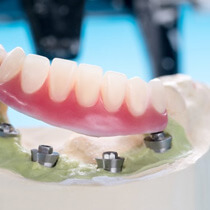 Full dentures are similarly crafted using a gum colored base material to support an entire row of replacement teeth. Since there are no remaining teeth to support the denture the base is molded to fit snuggly against the gums, creating suction that holds the prosthetic firmly in place.
Should I Consider Implant Dentures?
Patients who want to improve the stability and longevity of their partial or full denture should consider an implant supported restoration. Dental implants are small posts inserted into the gum line that mimic the lost tooth roots, recreating natural form and function. Because the implants provide the necessary stimulation to bone and soft tissue, patients maintain a healthy, youthful facial shape. Compared with traditional dentures that need to be replaced every seven to ten years, implant supported dentures will remain functional for two decades or longer with proper care.
Which Option is Right for Me?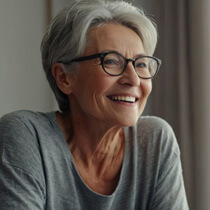 No treatment is right for every patient, so our team will partner with you to make the best choice. During a tooth replacement consultation, we'll evaluate your current oral and overall health, review your history, and help you to choose the right restoration option to renew your smile's health and function.
How do I Care for My Dentures?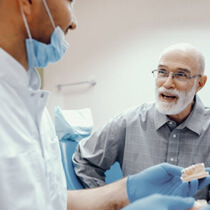 If you have a removable partial or full denture care is simple. You'll need to remove the prosthetic before going to sleep. Then, carefully brush the denture to remove plaque buildup and any food particles. Store your dentures in cool water or cleaning solution overnight. If you have healthy teeth remaining continue to brush and floss as usual. If you have an implant fixed denture, carefully brush the prosthetic at least twice each day. To remove plaque and food between your teeth and the denture base you may want to use a specialized water or air flosser and/or an antimicrobial mouth rinse. Visit our office two times each year for dental exams and teeth cleaning appointments to ensure your denture remains solid and functional.