Dentures - Astoria, NY
Repair Your Smile
At ED Family Dental of Astoria, we work with our patients to develop and maintain healthy, beautiful smiles, but for those patients who have experienced serious oral health concerns or advanced tooth loss, we're here to help you repair your smile. If you're struggling with the loss of numerous teeth or a full row of teeth, call our team to schedule a tooth replacement consultation appointment today. We offer a wide range of restorative dentistry solutions, including partial and full dentures to renew oral health and function.
What are Partial Dentures?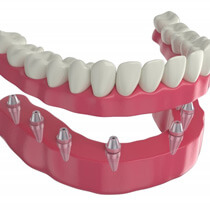 Partial dentures are advanced tooth replacement prosthetics used to restore a number of consecutive and nonconsecutive missing teeth. The partial denture is molded to fit between remaining teeth, and it's held in place with clasps that attach to healthy dental structures.
What are Full Dentures?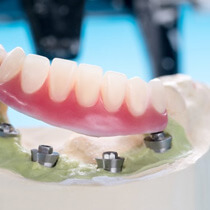 Full dentures are similarly crafted using a gum colored base material to support an entire row of replacement teeth. Since there are no remaining teeth to support the denture the base is molded to fit snuggly against the gums, creating suction that holds the prosthetic firmly in place.
Should I Consider Implant Dentures?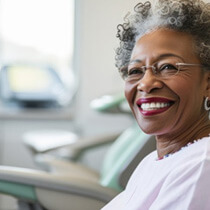 Patients who want to improve the stability and longevity of their partial or full denture should consider an implant supported restoration. Dental implants are small posts inserted into the gum line that mimic the lost tooth roots, recreating natural form and function. Because the implants provide the necessary stimulation to bone and soft tissue, patients maintain a healthy, youthful facial shape. Compared with traditional dentures that need to be replaced every seven to ten years, implant supported dentures will remain functional for two decades or longer with proper care.
Which Option is Right for Me?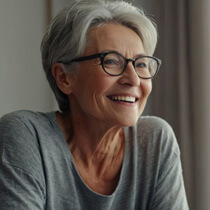 No treatment is right for every patient, so our team will partner with you to make the best choice. During a tooth replacement consultation, we'll evaluate your current oral and overall health, review your history, and help you to choose the right restoration option to renew your smile's health and function.
How do I Care for My Dentures?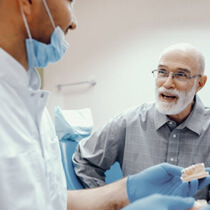 If you have a removable partial or full denture care is simple. You'll need to remove the prosthetic before going to sleep. Then, carefully brush the denture to remove plaque buildup and any food particles. Store your dentures in cool water or cleaning solution overnight. If you have healthy teeth remaining continue to brush and floss as usual. If you have an implant fixed denture, carefully brush the prosthetic at least twice each day. To remove plaque and food between your teeth and the denture base you may want to use a specialized water or air flosser and/or an antimicrobial mouth rinse. Visit our office two times each year for dental exams and teeth cleaning appointments to ensure your denture remains solid and functional.
Denture FAQs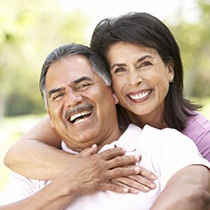 Do you want to know even more about partial, full, or implant-retained dentures in Astoria? For your convenience, we've gathered some of the most common questions we get about dentures, along with their answers, to help you find the information you may be looking for. If you're ready to repair your smile or don't see the answer you're looking for below, feel free to contact our Carrollton office and we'll be happy to help!
How Long Will My Dentures Last?
With the proper care and some occasional readjustments, a set of dentures typically lasts about five to seven years. Tooth loss causes the jawbone to gradually change shape over time. We'll be able to adjust your dentures to keep their close fit for several years, but eventually, they will need to be remade in order to keep up with your jawbone changes. Your dentures should always feel comfortable to wear, so if you begin to notice any jaw stiffness, gum soreness, or other unusual sensations, give us a call right away. We'll either adjust or replace them to help you get back to enjoying your beautiful, complete smile.
Can My Dentures Be Repaired If They Break?
Even after you get used to wearing your dentures, it's important that you're always mindful when handling them. Carelessly cleaning them or haphazardly taking them out of your mouth can easily lead to a set of damaged dentures. When you're removing or putting them back into your mouth, it's a good idea to lay a towel down on top of hard surfaces like your bathroom counter or sink. This way, if you accidentally drop them, they're much less likely to chip or break. If they do get damaged however, don't hesitate to contact us. After making your appointment, we'll give you some personalized steps to take next to keep you and your smile safe.
Can I Change the Look of My Dentures?
Dentures are designed to reliably retain their color, size, and shape for years. If you're planning on having your teeth whitened, we can match the hue of your new dentures to the new shade of your teeth after they've been brightened. If you decide you'd like to change the appearance of your dentures later, we'll be happy to talk to you. We may be able to bolster their appearance with a bleaching solution or we may work with you to design a new prosthetic that is more in line with your wishes.
Will My Dental Insurance Cover Dentures?
To see how much of your dentures will be covered by your insurance, you'll need to review the specifics of your policy. Feel free to bring your dental insurance documents with you when you come in for a consultation. Our talented team here at ED Family Dental has years of experience filing claims, maximizing benefits, and minimizing out-of-pocket expenses. We're also happy to offer flexible financing through CareCredit to make a full smile an achievable reality for everyone.