Astoria, NY General & Preventive Dental Care
Keeping our patients' smiles whole and healthy for a lifetime is always our top priority at ED Family Dental, and that all starts with preventive dentistry checkups every six months. Our family-friendly dental office in Astoria provides comprehensive diagnostic services and general care for patients of all ages. Our goal is to identify areas for concern and help patients create at-home hygiene plans combined with in-office preventive care that allows them to maintain their healthiest smiles. Contact our team to schedule your six month checkup today.
Dental Checkups & Cleanings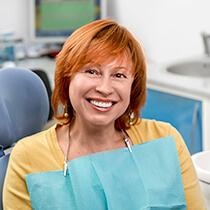 One of our priorities is offering patients a personalized treatment plan to meet their unique needs, but every patient's ongoing care plan should include visiting our Astoria dental office at least two times each year. These six month dental checkups allow our team to carefully examine teeth screening for early indicators of common oral health concerns, diagnosis and treat issues in the earliest stages, and keep patients' smiles whole and healthy without the need for extensive, costly restorative dentistry services. Perhaps most importantly, these twice a year appointments allow our team to get to know patients, establishing lifelong relationships founded on trust and respect, so if patients do need extensive treatment, they are completely comfortable in our practice and confident in the results we will provide. Our hygienists also provide thorough professional cleanings at these visits, which significantly reduce patients' risk for tooth decay and gum disease.
Periodontal Treatment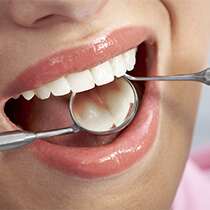 Periodontal (gum) disease is not just one of the most common oral health issues facing US adults, it's one of the most pervasive health concerns bar none. For this reason, we include screening for early indicators of mild gum disease, gingivitis, as part of every six month checkup. The effects of gingivitis are typically reversible with more frequent professional cleanings. If we are unable to diagnose periodontal disease in the early stages, it may develop into the more advanced form of gum disease, periodontitis. Once periodontal disease reaches this stage, we are likely to recommend advanced treatments including scaling, root planing, and antibiotic therapy to renew oral health and prevent further damage to teeth and gums.
Nightguards for TMJ & Bruxism Therapy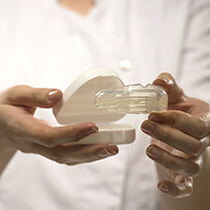 For patients who experience pain or discomfort due to temporomandibular joint (TMJ) dysfunction and those who unconsciously grind and clench their teeth during sleep, a comfortable, custom-fitted nightguard may be the ideal solution. These oral appliances reposition the bite so the jaw rests in the ideal position for comfort. For many patients, this repositioning decreases or stops the unconscious grinding motion, offering significant pain relief for those suffering from TMJ dysfunction. The mouthguards also place a protective barrier between teeth, preventing unnecessary wear and damage caused by teeth grinding and clenching.
Dental Sealants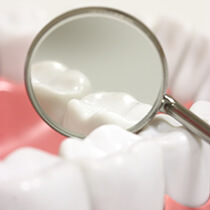 Bacteria are naturally present in the mouth, and they serve a vital function, helping patients breakdown foods. However, bacteria excrete a sticky, acidic biofilm, plaque, that may lead to decay and gum disease. In order to prevent tooth decay or at least reduce patients' risk for gum disease, we may recommend dental sealants. To complete this treatment, we place a thin coat of plastic over the top of teeth, sealing out bacteria and plaque. The treatment is fast and painless. We are able to provide patients with sealants during a regular checkup, and these clear protective coats can last for years with proper care.
Sleep Apnea Therapy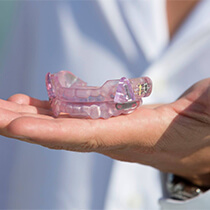 While many patients don't automatically think of our office for sleep apnea treatment, Dr. Shkurti is happy to offer a comfortable alternative to CPAP– oral appliance therapy. These custom crafted orthodontic appliances shift the jaw forward, keeping the airway open and allowing patients to breathe deeply through the night. Many patients find themselves unable to adjust to the sounds and sensations associated with CPAP treatment or do not achieve adequate improvement from CPAP alone. For these patients and others, oral appliance therapy may be a better solution.
Oral Cancer Screenings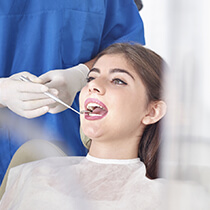 Dentists often focus on diagnosing and treating oral health concerns in the earliest stages as the best way to help our patients maintain optimal oral and overall health. Recent research conducted by the Oral Cancer Foundation further validates our ongoing efforts by stating that patients with oral cancer are more likely to make a full recovery if the disease is diagnosed early, and evidence suggests early diagnosis is the only way to reduce the number of annual deaths related to oral cancer. For these reasons, we make oral cancer screening an integral part of twice a year checkups at our office.
Children's Dentistry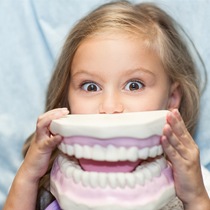 Are you looking for convenient and quality dental care? ED Family Dental could be you and your family's one-stop-shop for dentistry. We offer expert services for your kids with a touch of extra fun, care, and compassion. Our thorough checkups and cleanings as well as dental sealants play an important role in preventing and detecting oral health issues like cavities. Plus, familiarizing your children with the same dentist that you visit will make their chances of having an enjoyable experience much higher. Dr. Eduart Shkurti is highly-trained in caring for children, and he takes pride in his ability to form relationships with each of his young patients.