All-On-4 – Astoria, NY
Support Your Denture with Dental Implants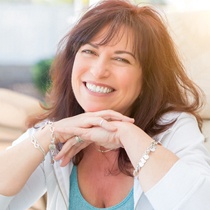 For decades, people have turned to dentures to replace all their missing teeth. New innovations in dentistry make them more realistic than ever, but they will always have their limitations. As an alternative, you've considered supporting your denture with dental implants, but you're not a candidate for the procedure because you've experienced bone loss in your jaw. You're not out of options. All-On-4 in Astoria allows you to skip bone grafting while stabilizing your smile. If you're missing teeth, you can enjoy the next best thing to what nature gave you. Contact our office today to see if All-On-4 is right for you.
Why Choose ED Family Dental for All-on-4?
Entire Procedure Completed Under One Roof
State-of-the-Art Dental Technology Used
Rebuild Your Whole Smile with a Lasting Solution
How Do All-On-4 Implants Work?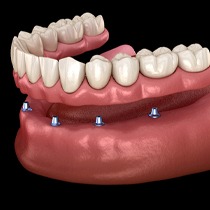 Traditional dentures are held to your gum tissue using suction or an adhesive. Several improvements to the materials and methods used to create them have enhanced their fit and aesthetics, but they will never truly feel like your real teeth. As an alternative, you can secure your denture to your jawbone using 6 to 8 implant posts. Although this method is effective, it's not an option for everyone.
All-On-4 uses fewer implant posts without compromising the results you achieve. Four implant posts are strategically placed into the thickest parts of your jaw to support your denture. As a result, you can often skip bone grafting to receive your new smile quicker.
Am I a Candidate for All-On-4 Implants?
If you've lost all your natural teeth in one or both arches, you may be a candidate for dental implants. Generally, if you have good oral and overall health, you're a candidate for dental implants; however, you'll still need a consultation with your dentist to ensure they are the right choice for you.
What are the Benefits of All-On-4 Implants?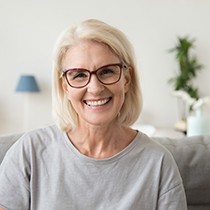 All-On-4 replaces the entire structure of missing teeth in Astoria using fewer posts than a traditional implant denture. Overall, you'll enjoy exceptional benefits, including:
High Success Rate: Dental implants are proven to have a success rate of 95% or higher. They can last for several decades with the right maintenance.
Looks Natural: Prosthetic teeth are carefully crafted to match the appearance of your real ones.
Feels Natural: Regain as much as 70% of your natural biting force to enjoy your favorite foods.
Preserves Your Jawbone: The implant posts stimulate new bone growth to preserve your jaw's density.
Look Younger: Your facial tissues will have adequate support to prevent premature wrinkles and sagging skin.
Quick Results: Skip bone grafting and complete your smile in one day.
Cost-Effective: Your new smile should never need to be replaced with the right aftercare.
All-On-4 VS Traditional Dental Implants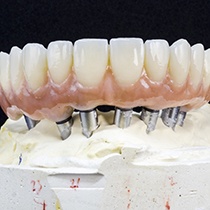 Traditional dental implants require a multi-phased treatment process that takes several months to complete. Although it's necessary for this method, All-On-4 is a bit different. Your implant posts are surgically placed into your jawbone without needing bone grafting beforehand. Often, you can be fitted with a temporary denture the same day as your placement surgery, so you won't need to go without teeth while you heal.