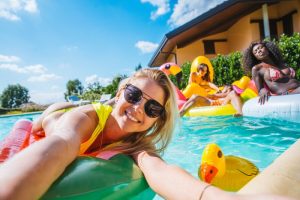 While you're excited for all of your plans with your friends this summer, you don't want to have to worry about always hiding your misaligned and crooked teeth behind your hand. Whether someone is taking a picture of you, or you're striking up a conversation with a new friend, it's hard to focus on having fun when you're too busy thinking about your embarrassing smile. Getting orthodontic treatment during summer doesn't seem like a good idea, and you'd rather have crooked teeth than a mouthful of metal and brackets in your summer vacation pictures. The only thing is, you also don't want to delay your treatment. Luckily, getting Invisalign in Astoria allows you to work towards a straighter smile without the cumbersome look and feel of traditional braces! Read on for 5 benefits of getting Invisalign during summer.
Keep Enjoying All Of Your Favorite Summer Foods
One of the top benefits of Invisalign treatment is that you'll be able to eat all the foods and drinks that you normally would. Because they're removable, all you need to do is to remove them before you sit down for a meal or drink anything other than water. This will ensure that your trays don't get damaged or discolored and remain practically unnoticeable.
Nobody Will Notice Your Practically Clear Aligners
Your Invisalign aligners are made of an FDA-approved flexible and durable plastic. Not only is this smooth material gentler on your gums and oral tissues, but they're also clear. When someone snaps an unexpected picture of you, you won't have to worry about how you didn't have enough time to hide your metal and brackets.
Time To Adjust Before Classes Begin
Whether you're in high school, college, or have a professional career, Invisalign is great for people of all ages. If you begin your treatment during your summer break, you'll be able to adjust to the new feeling of your Invisalign aligners in the comfort of your own home. Typically, it'll only take a few days or a week for your mouth to adjust, but once you do, you'll hardly remember they're even in your mouth!
Extra Time For Oral Hygiene
When you're on summer vacation, you'll have more time to take care of your oral hygiene because you won't be attending classes all day, every day. If you're planning a road trip or some special outings with your friends, just remember to rinse your aligners every time you take them out of your mouth. Clean them daily and brush and floss regularly to prevent food debris and plaque from getting trapped in between your gums and aligners.
Look Forward To Next Summer's Smile
A benefit that makes Invisalign so popular is that treatment time is typically shorter than traditional braces. You could be wearing metal and brackets for up to two years, but the average Invisalign treatment is only 12 to 14 months! You'll be able to enjoy a fantastic summer smile just in time for next year when you start now!
Don't put your straighter smile on hold because you think your treatment will ruin all of your summer plans. Instead, visit your dentist in Astoria for a consultation about Invisalign. Take the first step to getting a smile you're proud to show off – you won't regret it come next summer!
About the Author
Dr. Eduart Shkurti has been practicing dentistry for over a decade and is passionate about giving his patients improved smiles that they're proud of. He is an active member of multiple professional organizations including the American Dental Association. He strives to give his patients comprehensive care, including everything from Invisalign to Sleep Apnea Therapy. For questions or to schedule an Invisalign consultation, visit his website or contact 718-806-1662.