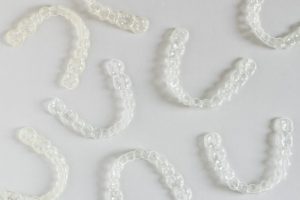 Maybe you look at your teeth in the mirror each morning while you're brushing and think, "I wish my teeth were straighter." You're hardly alone; many adults want a perfectly even smile but are unsure about getting braces to do so. In many cases, Invisalign is highly recommended for such patients – but like with any dental procedure, the source of the treatment matters. Here's why you should find a good dentist for Invisalign in Astoria.
What is Invisalign, and How Does it Work?
Invisalign avoids metal brackets and wires; instead, you'll receive a series of plastic alignment trays. Each tray will adjust your teeth a little at a time. By wearing each tray in the series, you'll gradually see your smile start to improve.
Many patients choose Invisalign because of the aesthetic benefits; the trays are see-through and far less conspicuous than braces, which makes it easier to smile in front of people you're meeting for the first time. Also, because Invisalign is removeable, you won't have to deal with the inconvenience of avoiding certain foods or needing to brush around the appliance; you can continue your normal diet and oral hygiene routine.
Why Is It Important to Find a Good Dentist for Invisalign?
While Invisalign is effective for correcting a wide variety of orthodontic issues, the treatment may not necessarily go exactly as planned. While most of the time you'll wear a single tray for two weeks before moving to the next one, sometimes you might need to wait a little longer to make the change. Sometimes it's even necessary to go back to wearing a previous aligner.
For this reason, it's important to find a dentist in Astoria with who's able to recognize potential issues with your Invisalign and make adjustments to your treatment plan as necessary.
How Can I Find a Good Dentist for Invisalign?
You'll want to find someone who's knowledgeable in using Invisalign to make orthodontic adjustments. You can speak with your current dentist about the process and ask about their experience with it. Some dentists might have received special training or certification in Invisalign.
Note that you'll need an appointment every six to eight weeks so that the dentist can make sure everything's proceeding smoothly; thus, it'd be a good idea to find a practice near you with business hours that are convenient for your schedule.
What About Mail-Order Invisalign?
Some companies offer mail-order Invisalign (or other kinds of clear braces). While they may seem like a good idea, the truth is that Invisalign administered this way usually doesn't include in-person evaluations, which are essential for accurately detecting problems. Always get Invisalign in-office at a dental practice you trust.
If you think your smile could stand some improvements, now's the time to start looking for the right dentist for the job!
About the Author
Dr. Eduart Shkurti wants all of his patients to feel comfortable and well-respected while he gives them brighter, healthier smiles. He's had plenty of experience using Invisalign to help patients with misaligned bites as well as teeth that are crooked or spaced too far apart. To schedule an appointment at his practice, ED Family Dental, visit his website or call (718) 806-1662.