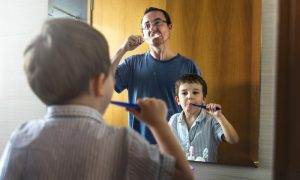 This October is National Dental Hygiene Month, which means not only are dentists celebrating the importance of routine oral hygiene, but giving thanks to the hygienists who do amazing work for their patients. If you want to do everything possible to prevent the risk of cavities and gum disease (and who wouldn't want to?), take a look at these basic dental hygiene tips in Astoria! Once you have them nailed, you'll be far less likely to develop dental disease by the end of the year!
Honing Your Brushing Technique
Many people think they are brushing their teeth correctly until they have a dentist tell them that there is a cavity in their smile. To prevent this from happening, it's important to know the right technique. To brush correctly, start by placing a pea-sized amount of toothpaste onto your toothbrush, then place your toothbrush on your teeth at a 45-degree angle. Move back and forth with your brush as well as in small circles to thoroughly remove plaque. Make sure to brush the inner, outer, and chewing surfaces of your teeth. Tilt the brush vertically to clean the inside surfaces of teeth. Always brush twice a day for at least two minutes at time.
Staying Dedicated to Flossing
Flossing may not seem like it does much, but it actually helps you remove both food debris from in between teeth and plaque that sits in between teeth. Since a toothbrush cannot effectively reach these areas, it's incredibly important that you floss at least once a day. Flossing before bed is very ideal as your mouth is highly vulnerable to drying out and promoting plaque development throughout the night (which is why morning breath is a thing.) To floss, pull out about 12 to 16 inches of floss, then wrap it around your index fingers. Leave a small piece unraveled so it can be gently slid in between your teeth.
Using a Non-Alcohol Oral Rinse
If you really want to take your oral care routine to the next level, you need to add an oral rinse to it. While there are many cosmetic mouthwashes out there, you'll want to make sure you're using a fluoride-based, alcohol-free rinse that strengthens tooth enamel. Avoid alcohol-based mouthwashes as they tend to dry out the mouth more than they should. To use, simply follow the instructions labeled on the bottle and you'll have even fresher breath to compliment your brushing and flossing.
Chewing Sugar-Free Gum Often
When chewing an American Dental Association- (ADA) approved, sugar-free chewing gum, you can actually reduce your risk for cavity development significantly throughout the day. Just make sure that you do not chew the gum for more than 20 minutes at a time.
Did you learn something new today when it came to your oral health? We hope that you celebrate National Dental Hygiene Month this October by scheduling your next dental visit today!
About the Author
Dr. Eduart Shkurti earned his dental degree from the University of Southern California. He's experienced in many forms of dentistry, but he always takes the time to educate patients on the most important steps to maintain oral care in between routine exams and cleanings. To schedule your next appointment at his office, you can contact him through his website.