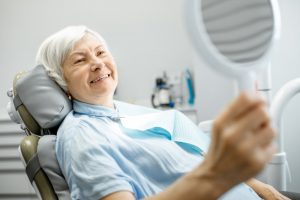 Your family has invited you out for a nice steak dinner. Your children and grandchildren will all be there, and you're excited to see them. Unfortunately, your dentures can make eating your favorite foods difficult. They slide around and detach from your gums while you're trying to chew. The last thing you want is for your teeth to fall out in the middle of dinner. If this situation sounds familiar, dental implants in Astoria may be a great option for you.
Dental Implants: Simple and Effective
If your dentures have ever fallen out while you were speaking, you know how embarrassing it can be. Unstable dentures can impact your confidence, not to mention your ability to speak and eat effectively. Dental implants can help to stabilize your dentures so that you can go about your daily activities without worrying about your teeth.
If you have enough bone in your jaw, your dentist can place two to four implants for your dentures to snap directly onto. This process works on both the upper and lower jaw and holds your dentures in place so that you can go about your day without a hitch.
Even if you aren't initially a candidate for dental implants, procedures such as bone grafting can build up your jawbone so that you can support implants. They are a simple way to give your dentures a wonderful fit and bring back your confidence.
All-on-4: A Permanent Solution for Dentures
If you don't like the hassle of having to take your dentures in and out all day, dental implants can offer a more permanent solution. Using a process called All-on-4, your dentist can place four to six implants in your jaw and permanently affix your dentures to them.
All-on-4 dentures take up less space in your mouth and allow you to taste and chew much better than traditional dentures. You won't have to worry about soaking your dentures or dealing with dental adhesives. You take care of them just like you would your original set of teeth and see the dentist periodically for a more thorough cleaning.
If you are missing teeth in Astoria, dental implants can do wonders for your dentures. From stabilization to more convenience, they can give you a quality of life that simply isn't available with traditional dentures. Using implants, you'll eat, speak, and feel better than you have in years.
About the Author
Dr. Eduart Shkurti loves giving his patients better lives. Since graduating from the University of Southern California School of Dental Medicine, he has committed countless hours to continuing his education and providing the highest level of care. From implants to Invisalign, he offers comprehensive treatment options so that patients can get the care they need in one place. If you have dentures and would like to learn more about how implants can benefit you, Dr. Shkurti and his team at ED Family Dental are happy to take your emails and your calls at (646) 713-0132.