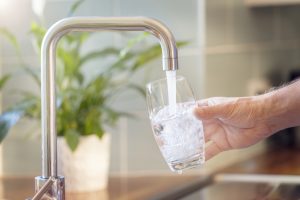 The moment after you have your teeth cleaned by a dentist in Astoria is when you probably feel the most confident in your smile. Unfortunately, maintaining the feeling is difficult. There may not always be enough time in your day to give your oral health the attention it deserves. Luckily, there's something in your kitchen that can make a big difference: water. By drinking a few extra cups of it between meals, you can make a significant impact in the health and cleanliness of your teeth. Read on to find out the ways water can make a difference in your life.
#1 – Getting Rid of Leftover Food
When we eat, small pieces of food get trapped in the spaces between our teeth. The bacteria in our mouths reach them, breaking them down for energy and releasing an acid during the process that weakens the enamel on our teeth. Drinking water between meals can help dislodge this food and remove some of the bacteria as well.
Water can help in other ways. Sodas and coffee leave behind sugars and other compounds that weaken and stain your teeth. A glass of water can help reduce the levels that stick around in your mouth.
#2 – Stopping Bad Breath
While a variety of factors can contribute to bad breath, the most common source of the problem is the accumulation of bacteria in between the teeth and in the grooves of the tongue. Drinking water during the day slows the buildup of these bacteria and keeps your breath smelling fresher.
#3 – Preventing Dry Mouth
The saliva in your mouth is your body's natural defense against tooth decay. When your mouth dries out, it's easier for bacteria to collect and damage your teeth. Drinking water will help stimulate the production of saliva to keep your mouth cleaner during the day.
#4 – Strengthening Teeth with Fluoride
In many cities, the tap water has a compound added to it called fluoride. You likely have had it applied to your teeth during a regular visit to your dentist. The fluoride repairs and strengthens the enamel layer of your teeth, making them more resistant to tooth decay. In fact, some studies have shown that fluoride reduces your chance of having a cavity by up to 60%.
#5 – Water Has 0 Calories
As an added benefit, water has zero calories, so drinking it won't add to your waistline!
Not all dental home care needs to happen when you're brushing your teeth. Drinking a few extra cups of water a day between meals will prevent the buildup of harmful substances in your mouth and improve the vitality of your teeth and smile.
About the Author
Dr. Eduart Shkurti is happy to provide comprehensive dental care services to the people of Astoria, NY. He is committed to giving patients the latest information about dental health care and is a member of the American Dental Association, the New York Dental Society, and the Astoria County Dental Society. If you would like more information about what you can do to protect your teeth at home, you can reach him at his website or at 718-806-1662.