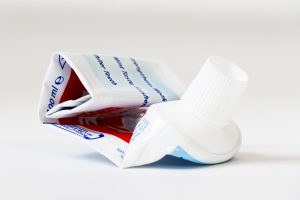 The number one best way to protect yourself from the COVID-19 pandemic is to practice social distancing. The last thing you need while you're trying to avoid crowds is to run out of toothpaste! Thankfully, practicing a few oral hygiene tips at home in Astoria can help you avoid the store and make your dental products last. Extend the lifespan of your toothpaste and keep your smile healthy throughout the COVID-19 pandemic with these suggestions from your Astoria dentist.
Track Your Toothpaste Use
Keeping track of how much toothpaste your family uses will help you conserve it. As your loved ones brush their teeth, make sure that:
Toddlers under three years old are using a smear of toothpaste the size of a grain of rice.
Kids between three and six are using a pea-sized drop of low-fluoride children's toothpaste.
Older children, teens, and adults are only using a pea-sized drop of fluoridated toothpaste.
However, if you do run out of toothpaste, you can make a temporary substitute with baking soda and water. This mixture can clear away plaque and remove surface stains, but overuse can lead to weakened, sensitive teeth. Switch back to fluoridated toothpaste as soon as you can.
Measure Your Mouthwash
Recent studies have demonstrated that mouthwash can remove up to 99% of the germs responsible for bad breath, plaque, and gingivitis. To rinse your mouth out during quarantine, you can:
Read the instructions and only use the recommended amount, which is typically between three and five teaspoons.
Create your own mouthwash by adding salt, tea tree oil, or crushed aloe vera leaves to a glass of lukewarm water.
Follow Flossing Rules Normally
The truth is, you're probably not using enough floss in your daily dental routine. To clean the space between your teeth and keep gum disease at bay throughout quarantine:
Use a new, 18-inch piece of floss for each session.
Never reuse old floss, even after washing it off.
For a longer-lasting alternative, you can try a reusable interdental brush or pre-threaded flosser with a replaceable head instead.
Spending extra time at home in quarantine presents an excellent opportunity to practice using your dental products efficiently. Avoid the crowds while keeping your smile healthy by making the most of your oral hygiene products!
About the Practice
At ED Family Dental in Astoria, NY, we care about our patients' overall wellbeing just as much as their beautiful smiles. We always have and will continue to encourage all our patients to practice excellent at-home oral hygiene to protect their smiles and general health. However, if you are in need of urgent dental care, don't hesitate to contact us. We have instilled a variety of extra precautions to ensure our office is as safe and germ-free as possible during the COVID-19 pandemic. If you have any questions or concerns, please contact us via our website or at (718) 806-1662.