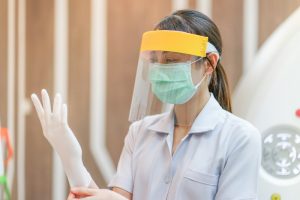 Your Astoria dentist and their team have always carefully followed strict sanitation guidelines when getting ready for your appointment. They utilize a variety of infection control protocols to protect you from illnesses like the common cold and the flu during your treatment. However, even more goes into preparing for your appointment these days to keep everyone as safe as possible during the pandemic. Here are seven new steps your dental team will be taking to get ready for your visit in COVID-19.
1.) Advanced COVID-19 Training
Advanced COVID-19 training was the first dental safety protocol in Astoria put in place before your dentist reopened their practice. Team members have been thoroughly trained on COVID-19 awareness and prevention to ensure they are fully informed and able to provide safe dental care.
2.) Daily Health Checks
Every team member's day at the office begins with a health check, which includes:
A quick health and symptom questionnaire.
A no-touch temperature check.
20-30 seconds of handwashing.
3.) Designated Safety Champion
To ensure that every new precaution is being followed correctly, one team member is designated as Safety Champion each day. They are tasked with monitoring the practice's Commitment to Safety and are available to answer any questions from staff or patients.
4.) Changes to Personal Hygiene Standards
Regular and thorough handwashing is essential in the COVID-19 pandemic. To practice exceptional hand hygiene, team members are expected to follow new personal hygiene standards, which include:
Keeping their fingernails short and clean.
Refraining from wearing any artificial fingernails.
Not wearing hand jewelry like rings, watches, or bracelets.
5.) Change Work Clothes at Work
COVID-19 can survive on a variety of surfaces for minutes, hours, or days at a time. While it is unknown how long these infected particles can remain viable on clothing, your dental team isn't taking any chances. They will be changing into and out of their newly cleaned scrubs only while at the office to eliminate any risk of cross contamination.
6.) Enhanced Working Wardrobe
Several new pieces of personal protective equipment have been added to your dental team's working wardrobe to fully prepare for your appointment, like:
N95 and ASTM level three masks.
Face shields.
Disposable, protective coats and hats.
7.) Changes to the Reception Area
Your dentist has rearranged parts of the reception area to prepare it for patients as well. When you arrive, you'll notice:
Fewer chairs are available in order to encourage social distancing.
Magazines, toys, and other frequently touched items have been removed.
New clear plastic barriers and HEPA filters have been installed to block the movement of airborne particles.
Going above and beyond to get ready for your appointment is one of many ways that your Astoria dentist and their team is working to keep you safe from COVID-19. If you need to visit them during the pandemic, you can rest assured that your smile is in good, capable, and fully prepared hands.
About the Author
Dr. Eduart Shkurti of ED Family Dental has been providing excellent oral health care for the smiles of Astoria, NY for many years now. As an active member of several organizations like the American Dental Association and the New York Dental Society, he completes hours of continuing education and attends dental conferences all over the nation. After carefully monitoring the COVID-19 pandemic, he has added 28 additional safety precautions to his practice's ambitious infection control protocols. If you'd like to learn more about his Commitment to Safety, feel free to contact him via his website or at (718) 806-1662.