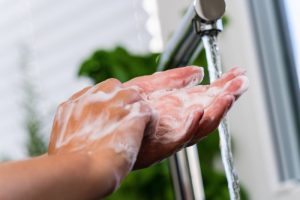 Great infection control protocols and excellent hand hygiene have always been a key part of dentistry, even before the COVID-19 pandemic. These strict sanitation standards protect you from illnesses like the common cold and the flu during your routine dental visits. Now, even more safety measures have been put in place to keep you safe from the coronavirus. Here's how your Astoria dentist and their team keep their hands clean during your appointment in COVID-19.
Advanced COVID-19 Training
The first dental safety protocol in Astoria your dentist established before reopening their practice was advanced COVID-19 training for all team members. It covered essential information on coronavirus awareness and prevention, including the best practices for hand hygiene in a pandemic.
Excellent Hand Hygiene
To keep germs from spreading, your dental team wears a brand-new pair of disposable gloves between each patient. Additionally, they frequently wash their hands throughout the day, including:
Before and after treating each patient.
Before leaving the practice and directly after returning to it.
Touch-Free Greetings
As happy as they are to welcome you back, your dental team will be postponing handshakes and hugs until the threat of COVID-19 has passed. Instead, they'll be using touch-free greetings to keep everyone safe.
Personal Hygiene Standards
To ensure their handwashing is as effective as possible, team members are expected to:
Maintain short, clean fingernails.
Refrain from wearing rings, watches, and other hand jewelry.
Hospital-Grade Sanitizer
New disinfecting stations with hospital-grade sanitizer have been set up throughout the practice. Staff and patients alike will be asked to disinfect their hands before entering the clinical area of the office.
No Magazines or Activities
A few changes have been made to reduce the risk of spreading infected particles through frequently touched objects, including:
Removing items like magazines, toys, and other items that could harbor germs.
Sanitizing high-traffic fixtures like countertops, pens, and doorknobs hourly.
Smartphone UV Box
Studies estimate that the typical cellphone user touches their phone 2,617 times a day. Since COVID-19 can survive on some surfaces for days at a time, every phone that enters the practice is disinfected with a modern appliance called a UV smartphone box.
Frequent Sanitizing & Nightly Deep Cleaning
Every surface of your dentist's office needs to be clean in order to keep their team's hands germ-free, which is why they:
Disinfect all surfaces and equipment in treatment rooms after each patient.
Sanitize the entire practice top to bottom with a deep cleaning every evening.
Now more than ever, excellent hand hygiene plays a key role in keeping you and those around you safe from viruses. Thankfully, your dentist and their team have years of experience keeping both you and your smile as healthy as possible. If you need to visit them during the pandemic, you can feel confident that you're in good, capable, and clean hands!
About the Practice
At ED Family Dental, nothing is more important than the wellbeing of our patients, staff, and the community of Astoria, NY. After closely monitoring the COVID-19 pandemic and the recommendations of the CDC, we have enhanced our safety protocols with 28 additional precautions. These extra steps are designed to keep you safe and at-ease while you receive the excellent dental care that you've come to expect. If you would like to learn more about our Commitment to Safety, we can be reached via our website or at (718) 806-1662.