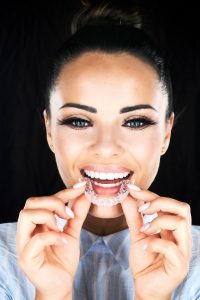 Deciding to get Invisalign is rarely a choice people regret. It many benefits that traditional braces do not have. These aligners are convenient to take off and put on, they're easier to clean, and they're visually more appealing. But while they have great perks, they can also be more fragile than traditional braces. Your results with aligners are heavily dependent on you and whether you take proper care of them and your teeth. Read on to learn what key factors can help or hinder your Invisalign treatment in Astoria.
Cleaning
Do: Clean and Soak Your Aligners Regularly
Make sure you clean one tray at a time using a soft bristle to gently remove any plaque or remaining bits of food. When soaking them, only use recommended cleaning crystals or denture cleaning tablets. After brushing before bed, make sure to rinse them with warm water. Also, don't forget to take proper care of your teeth as well. Maintaining proper oral hygiene will help prevent plaque and bacteria from growing under your aligners.
Don't: Use Harmful Ingredients or Hot Water to Clean Them
Even rinsing your aligners with hot water could warp them and cause a setback in your treatment. If your trays have harmful, foul-smelling bacteria, avoid using colorful, scented soaps or bleach to clean them. These kinds of products can cloud your aligner trays and cause the plastic to deteriorate.
Eating
Do: Take Your Aligners Out Before Eating
Whether you're just having a snack or eating a full meal, make sure you take out and store your Invisalign trays before a bite passes your lips. This keeps your aligners fresh and clean and prevents them from getting damaged, because chewing with your aligners in could break them.
Don't: Drink Beverages with Tannins or Hot Temperatures
Drinking bottled water with your aligners in is fine. But drinking wine or tea can stain both your trays and your teeth, and hot beverages can warp them just as easily as hot water. It may take some time to get used to wearing them, but try to get into the habit of removing your aligners before drinking these beverages.
Storing
Do: Always Keep Your Invisalign Case with You
Every time you remove your trays, it's best to store them in their case. This keeps them protected from getting broken, warped, or lost. It will also keep them clean.
Don't: Leave Them Out in the Open
Leaving your aligners out in the open will allow them to gather bacteria. This buildup of bacteria can cause foul odors or even make you sick!
Following this list of Invisalign Dos and Don'ts in Astoria will not only help keep your trays and mouth clean, but it will also make it easy to stay on track with your treatment. But don't forget to maintain regular oral hygiene and wear your aligners for 20-22 hours each day.
About the Author
At ED Family Dental, Dr. Eduart Shkurti and his team of professionals offer patients quality dental care using state-of-the-art techniques and technologies. Dr. Shkurti provides a wide range of preventive, cosmetic, and restorative dentistry services. If you'd like to get an Invisalign treatment in Astoria, visit the website or contact the office at (718) 806-1662 to learn more.