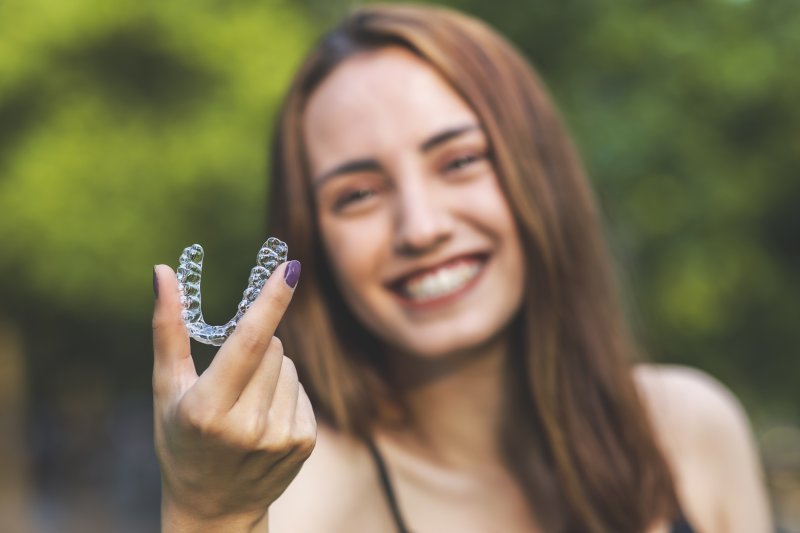 As excellent as Invisalign is when it comes to straightening the teeth and correcting bite problems, there are a few misconceptions about the treatment. For example, many patients assume that having a shield around their teeth for most of the day means they'll be safe from cavities during the treatment. In reality, you'll have to pay close attention to your oral hygiene habits if you want to keep your mouth free of decay during your treatment. Read on to learn everything you'll need to know to stay safe from cavities during Invisalign in Astoria.
How Can Cavities Form During Invisalign Treatment?
Whenever you eat or drink something besides water, you'll need to take out your Invisalign aligners. If you put them back in without cleaning your teeth, any bacteria or food particles remaining on the enamel will be trapped, allowing them to do extensive damage in the meantime. In other words, if you're not careful about keeping your mouth and your aligners clean, your risk of tooth decay will rise dramatically.
Can Cavities Disrupt Invisalign Treatment?
While Invisalign treatment can theoretically continue even if you have a cavity, in practice it's generally not considered a good idea. Placing a filling in a tooth can change its shape, and that means you'll need to get a whole new set of aligners, slowing down the entire treatment. This is why it's generally recommended to have cavities taken care of before starting Invisalign – and it's also a large reason why you should do everything you can to avoid decay while you're still wearing the aligners.
How Can You Prevent Cavities During Invisalign?
The most important step is to take oral hygiene seriously and to be extremely mindful of how you're treating your teeth at all times. This means closely following the below steps:
Brush and floss after every meal to get rid of food particles before putting your Invisalign back in. You'll be able to clean your entire mouth like you normally would since there are no brackets and wires to get in the way.
Clean your Invisalign with your toothbrush before you put it back in. You should also regularly soak in in a cleansing solution to make sure all bacteria and food particles that might still be clinging to it are eliminated.
Make sure you're regularly attending your follow-up visits so that your dentist can keep an eye on the state of your teeth as well as your trays.
If you take the right precautions, you can easily complete the Invisalign process and straighten your teeth in Astoria without cavities getting in the way. Talk to your dentist if you have any questions about the treatment or the state of your oral health.
About the Author
Dr. Shkurtie is the Founder of ED Family Dental. He worked for nine years at a private practice in Albania before moving to the United States, where he studied at the University of Southern California and earned his DDS. He is an active member of the dental community and attends continuing education classes to expand his skillset. To ask about Invisalign and how he uses it to improve his patients' smiles, please visit his website or call (718) 806-1662.