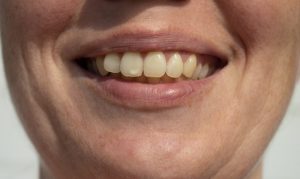 Have you ever looked in the mirror and noticed that one or more of your front teeth have little white spots on them? You're far from the only one – most people will develop these marks at some point in their lives. Most often, this small instance of discoloration is known as decalcification. While these white spots on teeth in Astoria may be unsightly, they are usually only an aesthetic issue. Keep reading to learn more about what causes this minor flaw and how cosmetic dentistry treatments can make it disappear.
What Is Decalcification?
White spots on teeth can happen to anyone. More often than not, they're the result of decalcification. This process, also known as demineralization, occurs when the tooth enamel loses valuable minerals like phosphorus and calcium. Bacteria in the mouth then have the chance to dissolve these weakened parts of the tooth structure, leaving behind a permanent chalky white mark.
Other Causes of White Spots on Teeth
Although decalcification is the most common reason for dental white spots, it's not the only cause of this phenomenon. Other explanations include:
Excessive fluoride – Too much exposure to fluoride as a child may lead to white stains on the permanent teeth.
Bacterial overgrowth – The more bacteria and plaque are in your mouth, the more likely it is that they'll erode your enamel and create white spots.
Certain medications – Some medications, such as the antibiotic amoxicillin, impact the way your body constructs tooth enamel, which can make it easier for bacteria to burn through it and leave white blotches.
Diet – A diet high in acidic foods/drinks and low in calcium and phosphorus can greatly weaken your teeth and cause white spots.
Braces – Many people have white marks on their teeth after getting braces off because those areas were shielded from staining while the rest of the enamel was not.
How Your Dentist Can Treat White Spots on Teeth
Even though white spots on teeth are often permanent, your dentist has several methods of fixing them, such as:
Teeth whitening – Professional teeth whitening is a safe and effective way to even out the color of your enamel.
Direct bonding – With direct bonding, a tooth-colored composite resin can often fill grooves in the enamel and eliminate white spots.
Veneers – A thin porcelain shell, called a veneer, can be cemented onto the front of a tooth, instantly concealing all of its other cosmetic flaws in addition to white marks.
If white spots on your teeth are making it hard to smile with confidence, then it's time to talk to your dentist about your options. They can discuss your options for attaining a beautiful set of pearly whites!
About the Author
Dr. Eduart Shkurti practiced dentistry in Albania for nine years before moving to the United States and obtaining his Doctor of Dental Surgery degree from the University of Southern California. He has a passion for taking continuing education courses in several areas of dentistry, including cosmetic treatments like veneers and teeth whitening in Astoria, NY. To learn more about getting rid of the white spots on your teeth, you can visit Dr. Shkurti's website or call (718) 806-1662.