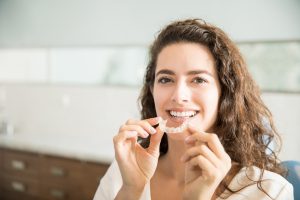 Few people are born with naturally straight teeth. Although alignment issues typically involve both arches, it's not uncommon for only the upper teeth to be gapped, overcrowded, or rotated. As a result, you might be asking yourself, "can I get Invisalign on just my top teeth in Astoria?" While it is possible, many dentists advise against it because it can lead to complications. Here's what you need to know to make the best decision for your smile.
Is Single Arch Treatment with Invisalign Possible?
Traditionally, treatment with Invisalign uses a pair of aligners, which are worn over the upper and lower teeth. Each aligner is changed weekly to gradually move your teeth into their ideal positions. Although the top and bottom teeth are often treated together, Invisalign can be used for only one arch.
The series of aligners are created to focus on a particular area instead of adjusting the entire bite relationship between your upper and lower teeth. Often, partial treatment requires fewer aligners, which can reduce the overall cost. Although every case differs, most patients are finished with their series in 4 to 6 months; however, some people may need aligners for as long as 1 year.
Am I a Candidate for Single Arch Treatment?
Treating a single arch isn't an option for everyone. You'll require a thorough consultation with your dentist to ensure you're a candidate for it. Besides the positioning of your teeth, your dentist will also check your bite to determine if Invisalign in Astoria is right for you.
Using Invisalign for one arch is recommended for people who have a few crooked teeth in the front and want their smiles to look straighter. Unfortunately, you will need both upper and lower aligners if you have complex bite issues, like an open bite or a crossbite. Overall, single arch Invisalign is best for:
Minor gaps between teeth
Slightly crooked front teeth
Tooth tipped out of alignment
Previous orthodontic therapy relapse
Teeth in the smile zone
Are There Risks of Single Arch Treatment?
It's important for the upper and lower teeth to have a harmonious relationship. If they don't close together correctly, it can cause pressure points, which can lead to enamel wear, toothaches, and disorders with your temporomandibular joint. Depending on the severity of the issue, it can make it difficult to bite or chew. Your dentist will need to consider several factors to minimize any potential risks if you're a candidate for only one aligner.
Enjoy a Straight Smile
If you're interested in correcting one arch using Invisalign, your dentist will create the personalized plan you need to achieve the best results. Take your first step toward improved confidence by scheduling your consultation for Invisalign.
About Dr. Eduart Shkurti
Dr. Shkurti earned his dental degree from the University of Southern California. He has completed advanced training in all aspects of dentistry, including Invisalign. As an active member of the American Dental Association, you can feel confident your smile is in good hands. Contact our office today to schedule your consultation for clear aligners.