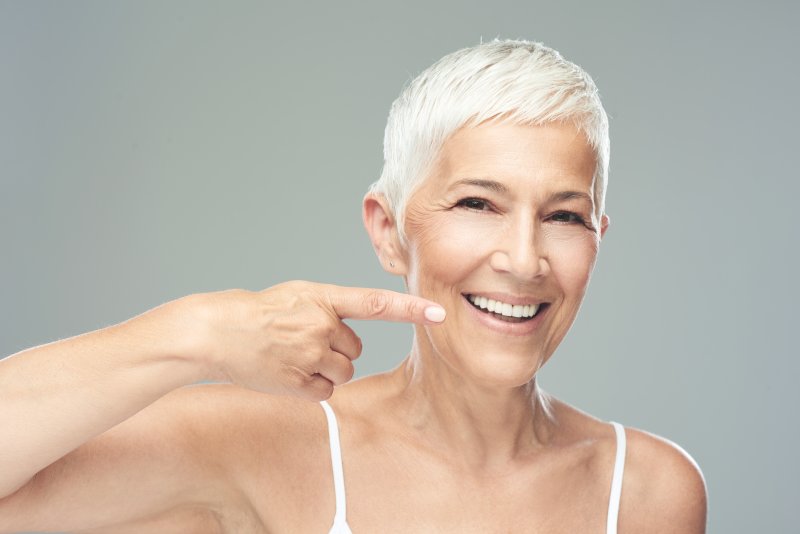 With a 98% success rate, dental implants are an incredibly popular and reliable tooth replacement option. While other restorations like bridges and dentures are also viable choices, they have a tendency to make patients appear older than they actually are. As the only tooth replacement option that can prevent or even reverse this aging process, here's how dental implants in Astoria can turn back the clock.
Smile Brightening
As we get older, our smiles become discolored due to enamel wear and stains from years of consuming dark and highly pigmented foods and drinks. This isn't the case with dental implants. The crown or other restorations that are attached to your implants will likely be made of porcelain, a non-porous material. Since porcelain is stain-resistant, this can keep your smile free from discoloration and give it a more youthful appearance.
Fuller Face
When we have missing teeth, that area of the jawbone is no longer being stimulated which can lead to bone loss. Since the jaw is a big part of the structure of the face, having less jawbone will give you a gaunt appearance which can make you look older. Since dental implants are inserted directly into the jawbone, this stimulates it and prevents deterioration.
Healthier Smile
The gaps that are left behind by missing teeth make you and your smile appear older. Teeth surrounding the gaps may also begin to tilt toward them. This weakens the teeth over time and may eventually cause them to become damaged or fall out. The sockets where the teeth used to be can also be a breeding ground for harmful oral bacteria, which can ultimately cause additional tooth and bone loss. Dental implants fill in the gaps in your smile to make it look fuller, younger, and protect it from further problems.
Am I a Good Candidate for Dental Implants?
Dental implants can make you look more youthful, but knowing if you're a good candidate for them is an important first step in the treatment process. Patient health is a key factor for implant eligibility. Having healthy teeth and gums is a crucial part of having a successful procedure. Additionally, your dentist will take x-rays to see if your bone is dense enough to support implants. If it isn't, a bone graft may be necessary. Oral health habits such as tobacco use will also impact one's ability to have a successful dental implant procedure.
Having a confident smile is a vital part of creating a good first impression and making you both look and feel younger. Talk to your dentist about getting dental implants to bring back your smile's former glory!
About the Author
Led by Dr. Eduart Shkurti, ED Family Dental is the trusted Astoria dental practice that uses state-of-the-art technologies and techniques to treat patients of all ages. They provide superior patient care from the moment you walk through the door. If you're considering getting dental implants, the friendly team is here to answer any questions you have about the process and ensure that you're comfortable with the procedure. Call ED Family Dental's office at (718) 806-1662 or visit their website to learn more about how dental implants can make you look younger or to make an appointment.