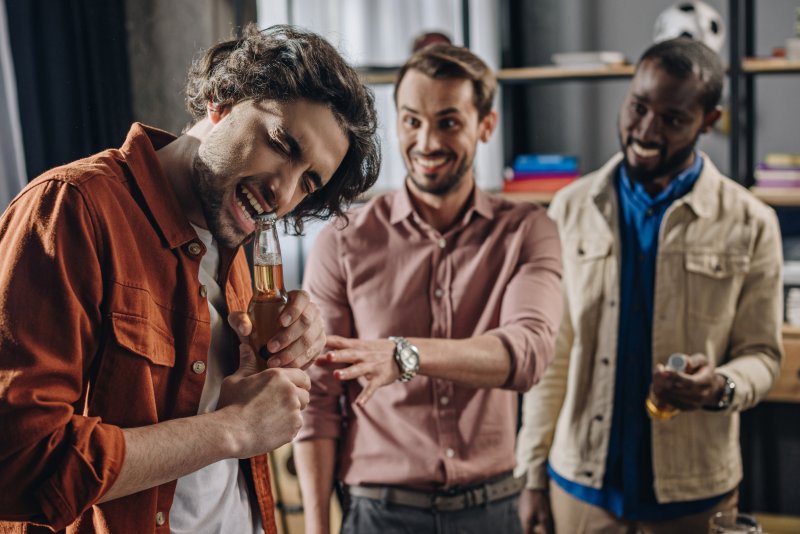 Do you find yourself biting your nails when you're bored or using your teeth to open a soda when a bottle opener isn't available? If you have dental implants, these bad habits and others can damage your investment and lead to you needing replacements. Read on to learn about five bad habits that can damage your dental implants so you know what to avoid.
Habit #1: Bad Oral Hygiene
Some people think that since dental implants can't get cavities, they don't require the same level of care as your natural teeth. Not brushing and flossing properly with your implants can lead to cavities in your remaining teeth, which can result in additional tooth loss if they get bad enough. If you don't have the teeth replaced promptly, the jawbone will begin to erode. This may cause more of your natural teeth as well as your implants to fall out. Make sure to brush for two minutes twice per day and floss before bed to keep this from happening.
Habit #2: Consuming Too Much Sugar
The bacteria in our mouths feed off the sugar in the foods we eat. They then release acids, which attack our tooth enamel. This weakened enamel makes our teeth more susceptible to decay and can also lead to gum disease. If gum disease progresses far enough, it can cause your natural teeth and implants to fall out. cut back on your sugar consumption to lessen your chances of developing these issues.
Habit #3: Smoking or Chewing Tobacco
Did you know that those who smoke cigarettes are 10 times more likely to develop oral cancer? It also makes you several times more likely to develop gum disease. Cut this habit out of your life to keep your mouth healthy. If you need help quitting, ask your dentist, doctor, or therapist for resources and reach out to loved ones for support.
Habit #4: Biting Non-food Items
Opening cans and bottles with your teeth, chewing on ice and hard candy, biting your fingernails, and other bad habits that include chewing on non-food items can cause chips and cracks to form in your implants and natural teeth. Keep these things out of your mouth to avoid damage.
Habit #5: Skipping Dental Checkups
Even if nothing is bothering you, make sure to see your dentist every six months for checkups and cleanings. This will allow your hygienist to thoroughly clean your teeth and around the gumline to lessen your chances of decay. Your dentist will also use this time to thoroughly examine the oral cavity and make sure there aren't any issues that need treating to avoid implant loss.
If you have dental implants, you've already lost at least one tooth. Make sure to take good care of your replacements so you won't need another one and can maintain a gorgeous, healthy grin!
About the Practice
Do you have dental implants to replace missing teeth and want to make them last as long as possible? The talented team at ED Family Dental can help. They are experts on all things oral health and can teach you about bad habits you'll want to avoid to prevent damage to your implants. With their help, you'll be enjoying a healthy, strong, and confident smile for years to come! To make an appointment with ED Family Dental or for more information on bad habits you should avoid with dental implants, call their office at (718) 806-1662 or visit their website.