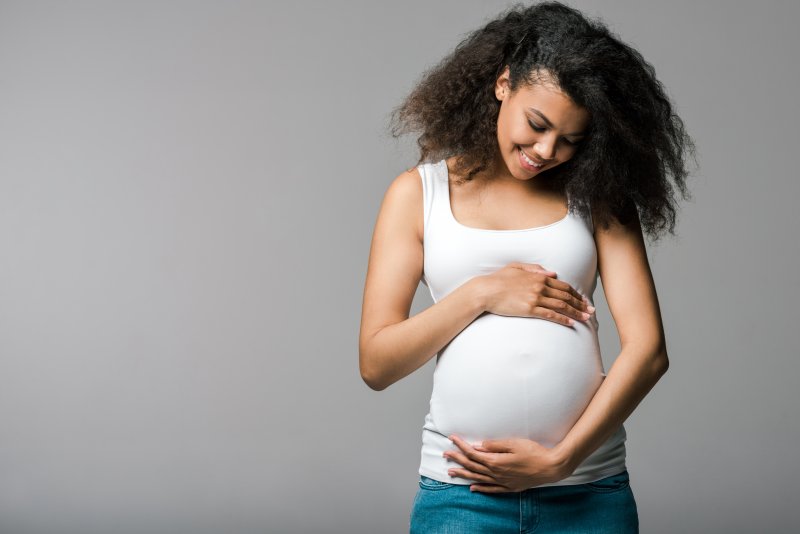 Millions of Americans are missing one or more teeth. If you're a part of that statistic, you know from experience how much it can affect your appearance and overall quality of life. Well, dental implants are an excellent method of tooth replacement that can help you enjoy a complete smile once again! However, you may want to hold off on getting them if you're pregnant. Read on to learn why getting dental implants is discouraged during pregnancy.
Pregnancy and Dental Work
Everyone needs to visit their dentist every six months to keep their oral health in check. In fact, the American College of Obstetricians and Gynecologists and the American Dental Association both encourage pregnant women to seek out regular preventive dental care because if they're healthy, their baby is healthy. Although elective procedures like dental implants can be performed after the first trimester, most oral surgeons prefer to wait until patients are no longer pregnant.
Why Should Pregnant Women Wait to Get Dental Implants?
Dental treatments like fillings, crowns, and root canals are usually performed after giving patients local anesthesia, which is completely safe during pregnancy. However, dental implant placement requires stronger anesthesia because it's a more invasive procedure – and that can be risky for the expectant mother and her unborn baby. You will also need X-rays before the procedure, which is another risk that the ADA discourages during the first trimester.
How to Prepare for Dental Implant Surgery
Are you pregnant and interested in getting dental implants? The good news is that you can get started with the process once you've reached your second trimester. At that point, X-rays will no longer be of risk to you. During your consultation, your dentist will conduct an oral examination and evaluate your jawbone health to determine whether or not any preliminary treatments are necessary before dental implant placement. In preparation for your oral surgery, it's incredibly important that you maintain good oral health. Make sure you're practicing good oral hygiene at home, visiting your dentist as instructed, and following a healthy lifestyle.
Pregnancy doesn't have to stop you from getting started with the dental implant process. If you're ready to begin your journey, schedule a consultation with your dentist in Astoria today!
About the Practice
At ED Family Dental, we offer exceptional, state-of-the-art dental services that will leave you smiling after every appointment. Our team uses the latest technologies, techniques, and materials to ensure you receive the best treatment possible. If you're pregnant and want to get started on your dental implant journey, don't hesitate to reach out. You can schedule a consultation by visiting our website or calling (718) 806-1662.