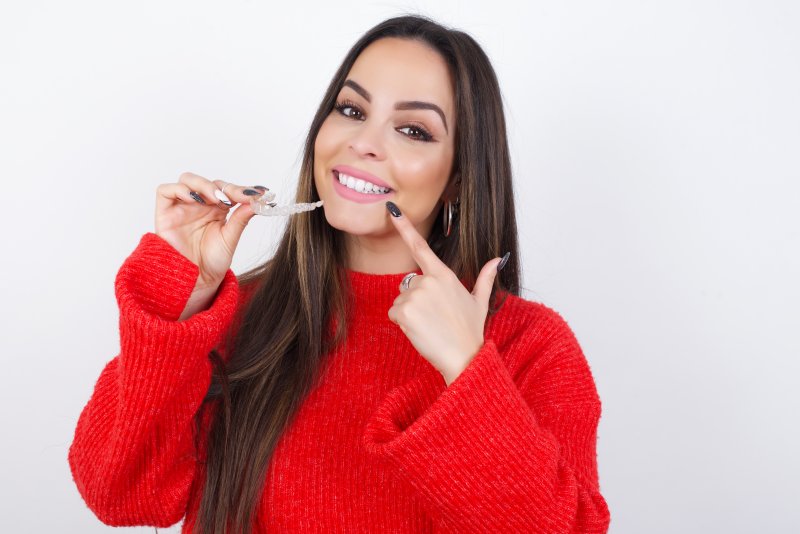 Invisalign comes with a wide range of benefits, from virtually undetectable trays to quicker treatment timelines. Of course, even 12 months can seem like an eternity when you're waiting for something as exciting as your new and improved smile. So, you may be wondering, "Can I speed up my treatment?" In short, the answer is yes! Read on to learn four must-know tips for working through Invisalign in Astoria faster.<
Wear Your Aligners for the Required Time (or More!)
One of the best ways to prevent falling off-track with your Invisalign treatment is to wear your aligners as much as possible. Most experts say that you should wear your aligning trays for at least twenty-two hours a day. You'd then use the other two hours to eat, drink, and clean your teeth.
Granted, some patients may be in circumstances where they can't wear aligners for that long each day. Even so, it's one of the best methods for those who want their treatment to go as quickly as possible.
Don't Miss Your Adjustment Appointments
You can only get the most from Invisalign trays when you have them replaced every few weeks. No one aligner set will work long-term, so it's essential that patients not skip their adjustment appointments. Missing too many will reduce your current aligners' effectiveness and thus slow the treatment process.
To make sure your progress doesn't halt, remember to see the dentist when they recommend it.
Practice Good Oral Care
The fact is that poor oral health delays the straightening process. After all, you can't wear aligners consistently if you're having cavities drilled and filled or other dental work done during the treatment.
That being the case, clean your teeth before re-inserting your aligners after eating. While you're at it, try to avoid excess sugar or acidic foods too. Teeth that suffer from sugar or acid-related tooth decay can't shift into a straight position, so a healthy diet is preferable.
Clean & Maintain Your Aligners
Aligners that get dirty or damaged can house bacteria that erode them over time. After a certain point, this breakdown will make the trays too flexible to move your teeth effectively. So, clean your aligners properly to ensure they're always working to straighten your teeth.
However, don't use toothpaste for the cleaning process. That approach can create tiny scratches in your aligners where bacteria can hide. Instead, rinse your aligners with lukewarm water each time you remove them, clean them with a soft-bristled toothbrush after each meal, and soak them in Invisalign cleaning crystals every so often.
Aligners are a convenient orthodontic treatment, but you probably still want the process to move swiftly. Practice the above tips to get that new, straight smile sooner than ever!
About the Practice
Ed Family Dental is based in Astoria, NY and led by Eduart Shkurti, DDS. By using state-of-the-art technology and techniques, the practice gives their patients a superior experience. Thanks to Dr. Shkurti's expertise, this experience can include preventive, restorative, and cosmetic dentistry for the whole family. Furthermore, their office is qualified to offer Invisalign and emergency dental services as well. For more information or to book an appointment, they can be reached at their website or by phone at (718)-806-1662.