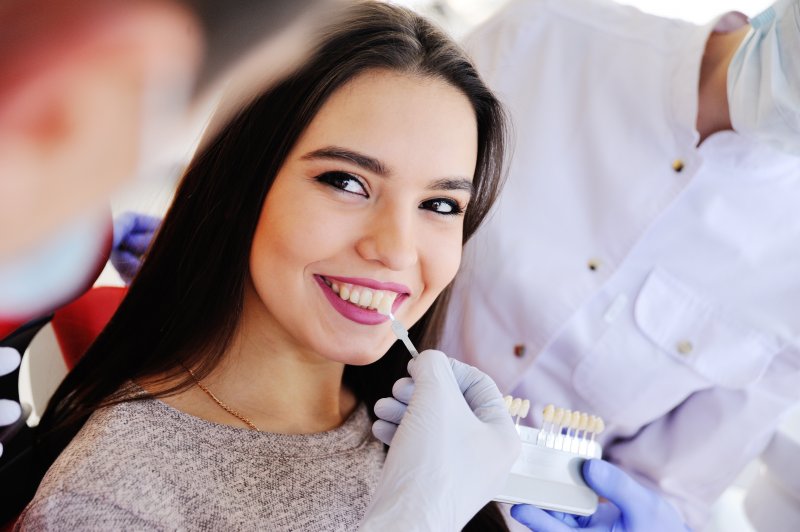 Veneers are one of the most popular and effective methods to enhance your smile. They are designed to conceal most dental imperfections—such as chipped, cracked, stained, misshapen, and misaligned pearly whites. Since they're non-porous, they can also offer a nearly permanent tooth whitening solution! But how does the veneer process go exactly? Keep reading to learn the step-by-step procedure for this cosmetic dental treatment.
The Initial Discussion
The first step will be to discuss and collaborate with your dentist during an initial consultation. During your visit, they'll assess your dental situation, understand your smile goals, and determine how best to achieve your desired results. This is also the time for you to ask as many questions as you need, as you'll want to make sure your treatment will effectively address your concerns.
Previewing Your Future Smile
To give you a clearer idea of how your smile will look with veneers, your dentist may be able to create a life-size model of your pearly whites. They can then shape wax over the replica to preview your results. Another method for this is for them to make acrylic trial veneers (or tooth-colored filling substance) to place on your actual teeth. You won't be able to leave your visit with these, but you might take a few photos to remember what your results will look like!
Preparing Your Pearly Whites
Once you and your dentist are on the same page, your teeth will need to be prepared for your veneers. They'll typically remove a small portion of your enamel so that the thin porcelain shells can be bonded to the front of your pearly whites. Since this process is irreversible (as enamel won't grow back), your dentist will ensure only to take off as little as necessary depending on your treatment plan and smile goals.
Laboratory Fabrication
After your teeth are prepared, you'll have impressions of them made and sent to a dental lab for construction. During this waiting period, you'll be wearing temporary veneers, usually made out of acrylic. Not only will these protect your exposed teeth, but they'll also serve as examples of how your veneers will fit. Your dentist will fine-tune your temporary veneers and send additional impressions to the lab to ensure that you're completely satisfied with the results.
Placing Your Veneers
When your final veneers are ready, you'll come back to the office to have them bonded to your teeth with special cement. This process will essentially create tiny pores in both your natural pearly whites and the porcelain shells so that they firmly connect both surfaces. Your new teeth will be so secure that it would take a laser or dental drill to take them off.
Once you've undergone these five steps, you can be sure to enjoy an entirely new smile for many years to come! Speak with your dentist if you're interested, and they'll be glad to discuss your treatment options.
About the Author
Dr. Eduart Shkurti is an active member of several organizations like the New York Dental Society and the American Dental Association. He studied at the University of Southern California and regularly seeks advanced training every year to expand his expertise. He offers multiple comprehensive treatments, including veneers to enhance your pearly whites. If you'd like to schedule a consultation, visit his website or call him at 718-806-1662.