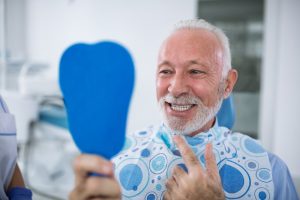 Needless to say, rheumatoid arthritis can make so many aspects of your day-to-day life challenging, including taking care of your teeth. When brushing and flossing become painful and difficult, your oral health naturally begins to suffer. You might even end up losing your teeth altogether! These days, you can fortunately get dental implants to replace your missing teeth with a solution that's just like the genuine article. But is it even possible to get dental implants if you have rheumatoid arthritis? Yes, but there are some risk factors you should be aware of. Keep reading as a dentist describes how rheumatoid arthritis can impact your candidacy for dental implants!
How Does Rheumatoid Arthritis Affect Your Eligibility for Dental Implants?
The main characteristic of rheumatoid arthritis (RA) is swelling and pain in the joints. So, you might be wondering what it has to do with dental implants, which are placed in your mouth. RA comes into play during the healing process after the implants have been surgically placed. The jawbone begins to grow attached to the implant posts over the next several months. This process, called osseointegration, is the key to implants' ability to remain sturdily in place for years or even decades.
However, RA is an autoimmune disease, so it might cause the immune system to attack healthy cells and disturb this process. The implant site will also take longer to heal, and the risk of infection will be significantly higher.
Additionally, RA can hinder your mobility, which affects your oral health and in turn, your dental implant eligibility. Sometimes, people with RA struggle to properly hold a toothbrush, let alone thoroughly clean their teeth to the degree that is necessary to prevent oral infection – the most common reason why dental implants fail.
Many of the medications used to treat RA involve suppressing the immune system, which also ups the odds of infection. Other medications might interfere with your body's ability to heal, which might make it more difficult for the implants to integrate with your jawbone.
Preparing for Dental Implant Surgery When You Have Rheumatoid Arthritis
Even though RA doesn't automatically disqualify you from getting dental implants, you should be mindful of the higher risk you face. RA might make daily oral hygiene difficult, but keeping your mouth clean is essential if you want your new teeth to be successful. To maximize your chances of your implants standing the test of time, prepare for your dental implant surgery by:
Getting in the habit of brushing and flossing regularly.
Considering using an antibacterial mouthwash.
Reducing your sugar intake so that your risk of tooth decay and infections decreases.
Visiting your dentist for regular preventive care.
Getting dental implants isn't necessarily impossible if you have rheumatoid arthritis, but understanding your risk is crucial. Make sure to talk to your doctor as well as your dentist so that you can enjoy a complete and healthy smile again!
About the Author
Dr. Eduart Shkurti practiced dentistry in his native Albania for nearly a decade before immigrating to the United States and earning his Doctor of Dental Surgery degree from the University of Southern California. Now, he practices at ED Family Dental, where he provides a vast spectrum of dental services, including start-to-finish dental implant treatment. He uses the latest technology in the field to ensure patient safety and comfort every step of the way. He'd love to help you enjoy state-of-the-art tooth replacement with dental implants and work with you if you have a condition like rheumatoid arthritis. You can get in touch with him by calling (718) 806-1662.