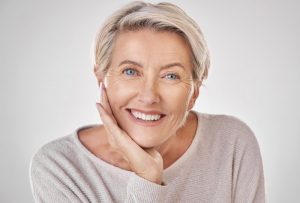 Did you miss the chance to straighten your teeth with traditional braces when you were younger? If you're an older adult who has always wanted a more aligned smile, it isn't too late! With advances in orthodontic technology, many people in advanced age are now turning to Invisalign as a way of achieving their dream smile. Read on to learn how effective Invisalign is for older people and what benefits you could expect from undergoing treatment!<
Is Invisalign Effective for Older Adults?
Invisalign is a popular choice among both teens and adults looking for discreet orthodontic treatment options. It is composed of clear aligners that fit snugly over the teeth and gradually move them into a more desirable position. Unlike traditional braces, Invisalign is barely noticeable and can be removed for eating and brushing your teeth.
But is Invisalign effective in older adults? The answer is yes! While it may take longer to achieve the desired results due to age-related changes such as bone density or gum recession, Invisalign can still help older adults achieve straighter smiles with fewer complications than metal braces. As long as an adult meets the general candidacy requirements for orthodontic treatment (e.g., good oral hygiene), they should be able to receive Invisalign without any issues.
What Are the Benefits of Invisalign for Older Adults?
In addition to the way Invisalign treatment to an improved aesthetic with straighter teeth, there are several other benefits that make it particularly appealing for older adults, such as:
1. Improve overall physical and oral health—Since crooked teeth are harder to clean than straighter ones, Invisalign can help improve your dental health by preventing issues such as tooth decay and gum disease. Periodontal disease is associated with other health conditions (heart disease, diabetes, and even premature labor), so you are not only improving your oral health but also preemptively caring for your overall well-being.
2. Increase self-confidence and discreet appearance—One of the many celebrated factors of Invisalign is that the clear aligners are so discreet compared to traditional behaviors. You can still maintain a professional appearance on your journey to more aligned teeth! And of course, when you feel good about your smile, your confidence rises, too!
3. Lower risk of jawbone and tooth loss. Ensuring your teeth are in their proper places and have ideal spacing will help lower your risk of jawbone and tooth loss.
4. Offers ease and convenience—Invisalign is more comfortable than its metal counterpart since there are no wires or brackets that need to be adjusted frequently or cause mouth sores. Additionally, the treatment requires fewer office visits, making it an ideal choice for busy adults who may not have time for frequent appointments with their dentist.
As the saying goes, "Never say never". Your dream of a straighter smile—with many other benefits– can be made possible with Invisalign, no matter your age!
About the Author
Dr. Eduart Shkurti has over two decades of experience and is the founder of ED Family Dental. He provides a full range of dental services, including cosmetic care. With personalized plans and the use of advanced dental technology, he can help you get the beautiful and long-awaited smile you have always wanted with Invisalign treatment! To schedule a consultation, contact him through his website or call (718) 806-1662.