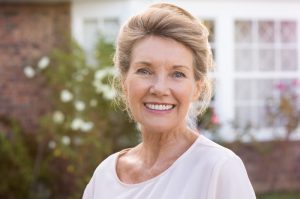 As time passes, your body goes through a variety of changes. This includes menopause in women, which can have an impact on your dental health. While getting dental implants to replace teeth can be a little more complicated due to menopause, it is still an option! In fact, dental implants may even provide some benefits for post-menopausal women! Read on from your dentist in Astoria to learn more.<
How Does Menopause Affect Oral Health?
Menopause affects the body in many ways, including a decrease in hormones such as estrogen and progesterone. This can unfortunately lead to bone loss throughout the body, including the place your teeth are firmly rooted: your jawbone. Bone loss in your jaw can cause your pearly whites to eventually fall out, leading to tooth loss. In addition, menopause can also lead to gum recession (the gums pulling away from the teeth), making them more prone to infection.
How Can Dental Implants Help?
Fortunately, dental implants provide an effective solution for replacing missing teeth after menopause. Dental implants use titanium posts that are surgically inserted into your jawbone, replacing your entire tooth, from root to crown. Because the posts are biocompatible, they gradually fuse with your jawbone, making it stronger. This not only provides a reliable foundation for your replacement teeth but protects you from future bone loss. Dental implants can ensure the health of your entire mouth after menopause, from jawbone to teeth!
How Menopause Can Affect Dental Implants
Despite the benefits, there are some challenges that post-menopausal women may face when considering dental implants. As discussed above, the decrease in hormones can lead to bone loss; if this has progressed too far, it can make it difficult for the titanium posts to bond with the jawbone properly. In addition, if there has been a recession of the gums, it increases the chances of infection at the implant site, leading to failure if not treated quickly enough.
To reduce these risks and ensure long-term success for dental implants after menopause, your dentist can assess the current state of your oral health. In preparation for a successful implant procedure, you may need additional treatments, like bone grafts or periodontal therapy, to help strengthen and protect the jawbone before inserting the titanium posts.
With proper care and the help of your dentist, dental implants can be a safe and effective way of replacing missing teeth after menopause. A complete and healthy smile can be possible for years to come!
About the Author
Dr. Eduart Shkurti has over two decades of experience and is the founder of ED Family Dental. He provides a full range of dental services, including restorative and cosmetic care. With personalized plans and the use of advanced dental technology, he can help you regain a complete, healthy, and vibrant smile with dental implants! To schedule a consultation, contact him through his website or call (718) 806-1662.