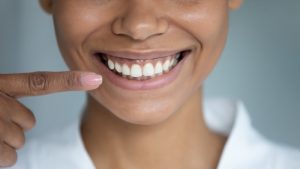 Social media is a part of many people's daily life now. Oftentimes, it is even used as a tool to see what great products and treatments are available to enhance your life. This includes dental procedures like getting veneers. Many influencers attribute their stunning smiles to this cosmetic dental treatment. Their pearly whites have been completely transformed by these ultra-thin porcelain shells attached to the front of their teeth.  They have helped people to see the process and result of the treatment. Read on to learn about four social media influencers who shared how they upgraded their appearance with veneers.
#1. Gigi Gorgeous
This Canadian YouTuber, socialite, and model has shown many aspects of her life, including her pearly whites. As with other famous influencers, she posted videos chronicling her experience with receiving veneers. She even dropped a "storytime" video of when she lost one of her porcelain shells. Fortunately, her dentist was able to renew her pearly whites in no time, so she wasn't without her camera-ready grin for too long.
#2. Tana Mongeau
Another social media personality who has proudly discussed her veneers on her platforms is Tana Mongeau. She has used her YouTube channel to share the details of her smile makeover with her many followers, including the full process and even what happens when you don't take proper care of them! She revealed how she has broken some of her porcelain shells and how her dental team successfully fixed her mishap.
#3. Jeffrey Star
Beauty guru Jeffrey Star also has felt comfortable talking about his experience with veneers on social media. He's posted several videos discussing the procedure and has transparently shared photos of himself before and after getting them done. His followers have been impressed by the transformation in his appearance that he achieved through this dental work.
#4. Huda Kattan
Make-up artist Huda Kattan is a perfect example of how powerful veneers can be in enhancing one's appearance. She has used her platform as one of the leading beauty bloggers on Instagram to discuss her veneer journey with her followers. On multiple occasions, she has posted before-and-after photos showing off what an incredible transformation she achieved with the help of this treatment.
These influencers have used their platforms to discuss their experiences with veneers and how they've helped them achieve amazing smiles! They are great examples of how transformative and relatively easy this type of dental work can be in changing one's appearance and giving them more confidence.
If you're considering getting a smile upgrade, it is helpful to see examples of ones you admire. During your initial consultation with your dentist, you can share your goals and pictures. They can help you decide if veneers are right for you and get you started on the process to a more radiant smile!
About the Author
Dr. Eduart Shkurti and his team at ED Family Dental keep the smiles of Astoria healthy and bright! With over two decades of experience, he provides a full range of dental services, including cosmetic treatments like veneers. With personalized plans and the use of state-of-the-art dental technology, he can help you transform your teeth into your ideal pearly whites. To schedule a consultation, contact him through his website or call (718) 806-1662.