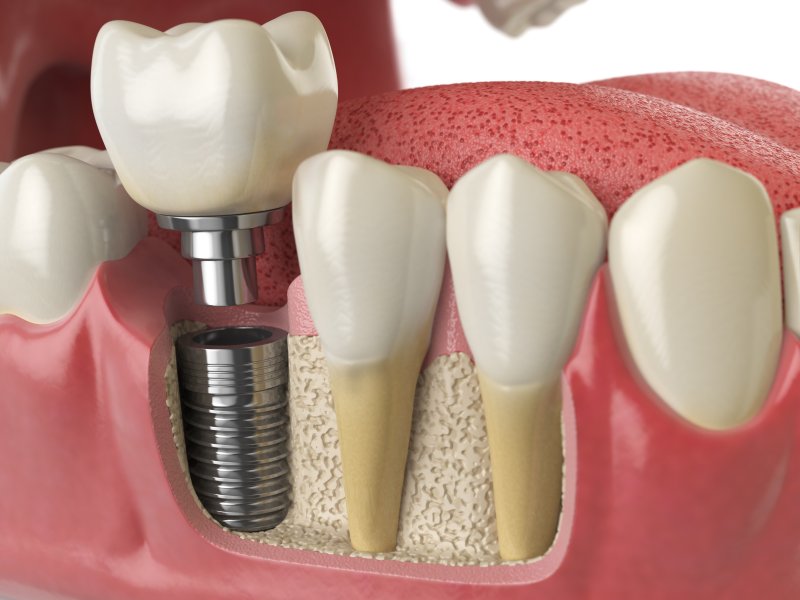 Dental implants are one of the most realistic tooth replacement options, thanks to both the materials that they're made of and the features of their design. Much like your actual teeth, dental implants are attached directly to the jawbone.
They're so realistic that you may wonder if they could be prone to issues similar to those that your natural teeth may have. You might not know whether you should worry about tooth decay, for example. Here's what you should know about dental implants and cavities.
Can Dental Implants Get Cavities?
Cavities are a consequence of bacteria in the mouth. These bacteria secrete acids that can dissolve away the enamel that makes up most of the exterior of your tooth.
Dental implants come in three parts: the titanium post that can be fitted into the jaw, the porcelain crown that simulates the tooth, and a titanium abutment that connects the two. Both the titanium and the porcelain that are often used in dental implants are resistant to acid erosion, meaning that you don't have to worry about them getting cavities.
That said, you still have to take care of your dental implants, as neglect can cause a host of other problems.
What Can Put Dental Implants At Risk?
The main thing that can cause a dental implant to fail is an infection known as peri-implantitis. This condition occurs when bacteria in the mouth begin to seep under the gum line and attack the bone tissue underneath.
This kind of infection is remarkably uncomfortable, and in the worst cases, the bone loss can even cause the dental implant to fall out.
Peri-implantitis is usually a consequence of poor oral hygiene. Even though your dental implant can't get cavities, you should still take care of them. Brush them twice a day, floss them daily, and make use of antibacterial mouthwash to reduce your chances of contracting this infection!
About the Author
Dr. Eduart Shkurti is a dentist with a knack for offering the highest level of dental care in an environment that is sure to put his patients at ease. He takes the time to understand every patient as an individual, and gives them the attention they deserve. Dr. Shkurti worked as a dentist in Albania before moving to the U.S., where he studied at the University of Southern California. He is currently a proud member of the American Dental Association and the New York Dental Society.
If you have any questions about dental implants, he can be reached at his website or by phone at (718) 806-1662.