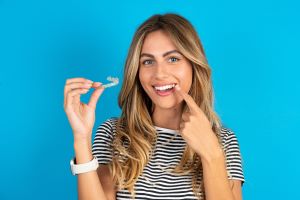 Invisalign aligners are incredibly sleek and low-profile, and yet they're capable of aligning your teeth almost as well as traditional braces. Aligner attachments can add even more versatility to this style of orthodontic treatment, allowing them to address bite problems and target specific problem teeth.
These attachments are applied directly to the enamel. Considering that these attachments protrude from the tooth, you may wonder when these attachments will be applied and when they'll be taken off. If you want to know more about the process of adding or removing aligner attachments, here's some information you may find useful.
When Do Invisalign Attachments Get Removed?
Typically, Invisalign attachments are placed on your teeth at the very beginning of your Invisalign treatment and aren't removed until the end of it, once your smile has straightened. Your dentist will be able to tell you from the beginning what it is that you'll need to get your ideal smile, what kinds of attachments will be involved, and when you can expect to get them off.
Are There Times When Attachments Will Come Off Sooner?
While it's true that you can usually expect your attachments to stick around for the duration of treatment, there are instances where your dentist may want to remove them before finishing. In some cases, for example, one arch of teeth may have moved faster than expected. As a consequence, it may have finished straightening before the other one.
In this case, a dentist may remove the buttons on the arch of the teeth that need less straightening.
Does Removing Invisalign Attachments Hurt?
Removing Invisalign attachments is both easy and painless. This typically involves the dentist using a gentle, specialized grinder to scrape away the soft material of the attachment without making any impact on the hard enamel. This will be entirely painless, even without the use of anesthetics.
They'll then polish your tooth afterward to remove any residual residue from the attachment, leaving your smile straighter and more beautiful than it was before.
About the Author
Dr. Eduart Shkurti truly loves the field of dentistry, which inspires him to not only build his expertise with continuing education but to allow his patients to benefit from the knowledge that he has to offer. Dr. Shkurti initially studied and practiced dentistry in Albania before immigrating to the U.S., where he received his Doctor of Dental Surgery from the University of Southern California.
If you have any questions about Invisalign attachments, we can be reached at our website or by phone at (718) 806-1662.