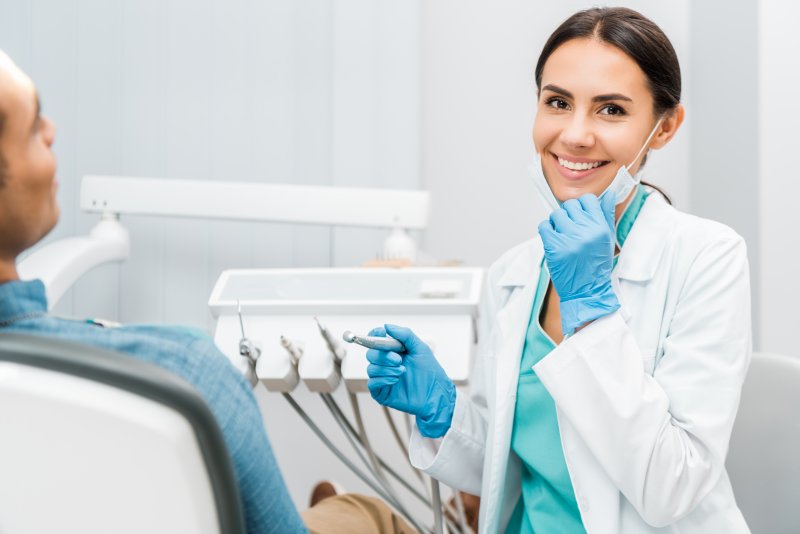 Dental implants are a great way to restore a smile after tooth loss, and they are in many ways stronger than natural teeth. While this makes them less likely to sustain damage such as chips or cracks, it unfortunately also means that they won't respond well to certain treatments, including teeth whitening. While a patient with dental implants can still receive this treatment, it will require certain considerations to produce the optimal result. Read on to learn about getting teeth whitening if you have dental implants.
Does Teeth Whitening Work with Dental Implants?
Teeth whitening from a dentist's office produces results superior to anything you can get from a store. The treatment comes in at-home and in-office varieties, and while both can turn teeth eight to ten shades whiter, they will not work on dental restorations. This means that if you undergo teeth whitening, your dental implants will remain the same color against your whiter smile. If you are a dental implant patient desiring teeth whitening, your dentist can suggest a few different methods to achieve a consistently bright smile.
Getting Your Teeth Whitened Before Receiving Dental Implants
If you haven't received your dental implants yet, the easiest way to your brightest smile is to whiten your teeth before having them placed. This will allow your dentist to color-match your restorations to your newly whitened grin so the whole set looks great from day one. Once you're satisfied with the whiteness of your smile, you can proceed with the implant process; but keep in mind that you should always prioritize the replacement of teeth over whitening them for the sake of your oral health.
Replacing the Implant After Teeth Whitening
If you already have dental implants, your dentist can remove your artificial tooth before whitening your teeth. Later, they can fashion a new restoration color-matched to your newly brightened smile. This way, your restored teeth will be just as white as your natural ones.
Dental implants will not become discolored in the same way as your natural teeth, and teeth whitening fades over several years. If you get teeth whitening with dental implants, periodic retreatments can maintain a consistent color in your smile. If your restoration is not visible, color-matching might not even matter. Consulting with your dentist can help determine the best way to achieve your ideal smile.
About the Author
Dr. Eduart Shkurti earned his Doctor of Dental Surgery at the University of Southern California in 2006 before completing a year-long residency at Montefiore Medical Center in 2007. He currently serves as a member of the American Dental Association and the New York Dental Society. His practice provides services such as preventive, restorative, emergency, and cosmetic dentistry like teeth whitening in addition to dental implant treatments. For more information on how you can receive teeth whitening if you have dental implants, contact his office online or dial (718) 806-1662.