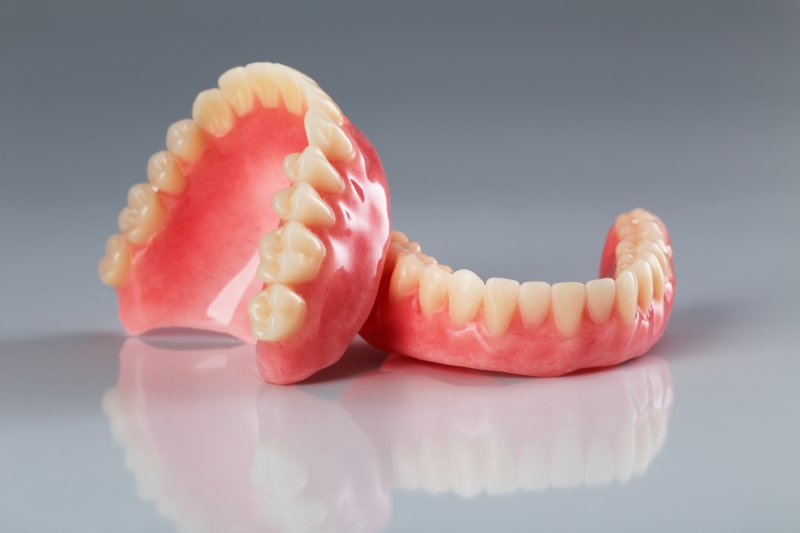 Dentures are an excellent way to replace lost teeth, but they require regular care and maintenance to stay in working order. Without the right care, dentures can become a breeding ground for bacteria that is uncomfortable to wear. Treated properly, your dentures can last up to ten years and look great the whole time. Here's what you should do to keep your dentures performing at their peak.
Clean Your Dentures Daily
Like natural teeth, dentures require daily brushing to remove plaque, and unlike natural teeth, they do not require toothpaste. After each meal, rinse your dentures with water. A good daily denture cleaning regimen goes like this:
Fill your sink with water and cover the area with a towel before you clean your dentures to prevent damage if you drop them.
Thoroughly rinse your dentures with lukewarm water to wash away food particles.
Clean them with an approved denture cleanser and a soft-bristled brush specially designed for dentures. Completely brush every surface while taking care to not bend any metal attachments.
Using fluoride toothpaste, brush your gums, tongue, and natural teeth. This will remove plaque and stimulate blood flow so these tissues remain healthy.
Rinse with antibacterial mouthwash to soothe any denture irritations, reduce the bacterial population, and give you a minty fresh feeling.
Remove Your Dentures for Eight Hours Every Day
If you go for days without removing your dentures, you provide oral disease-causing bacteria with the dark, damp, warm breeding ground they need to multiply and start wreaking havoc upon your oral health. Dentures must be removed and soaked for eight hours every day, so most patients do this before they go to bed. Removing your dentures regularly also provides your gums with time to rest and clean themselves, preventing infections and bone loss.
Dentures Need Regular Adjustments
Your mouth will continue to change shape as it develops throughout your life, and dentures usually need to be adjusted every year or two to continue fitting properly. Sometimes this means a hard reline, during which the inside of the denture will be reinforced with hard, durable material. However, if your mouth is more sensitive, a soft reline can do the same thing with softer material that will need to be replaced more often. Ill-fitting dentures can lead to irritation, sores, or small cuts at points of contact with the gums.
You deserve a full and beautiful smile that can chew through a healthy variety of foods. Proper denture care will extend the life of your appliance while keeping your mouth healthy for years.
About the Author
Dr. Eduart Shkurti earned his Doctor of Dental Surgery from the University of Southern California School of Dentistry in 2006 before completing a year-long residency at Montefiore Medical Center in Bronx, NY. He is proud to be a member of the American Dental Association and the New York State Dental Association. His office in Astoria, NY offers preventive, restorative, cosmetic, and emergency dentistry in addition to denture treatments. For more information on proper denture care, contact his office online or dial (718) 806-1662.