Missing Multiple Teeth – Astoria, NY
Invigorate Your Smile With Comprehensive Tooth Replacement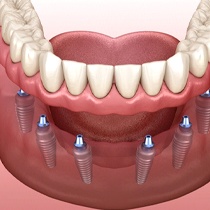 Tooth loss affects millions of Americans every year, especially older Americans. In fact, over 40 million Americans are missing all of their teeth! When you can't eat the foods you used to enjoy, it can not only affect your self-esteem, but your oral health and your overall nutrition as well. Dr. Eduart Shkurti recommends tooth replacements for anyone missing teeth, whether you're missing a handful or your entire arch is empty! With dental implants, you can get the most effective replacement tooth available in dentistry to date. Keep reading to learn about your options or give us a call to schedule your very first consultation!
Traditional Tooth Replacement Methods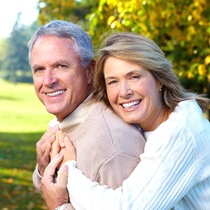 Generally, there are three methods for replacing teeth without the use of dental implants. While these methods are non-surgical, they do not offer the same level of restoration that you'd expect from dental implants. They include:
Dental Bridges – Used to replace one to three consecutive teeth at a time. This option combines a series of dental crowns to create one larger restoration. To keep the bridge stable, the restoration is attached to nearby healthy teeth. These teeth need to be modified so they can reliably hold the bridge.
Partial Denture – Used to replace multiple teeth on opposite sides of the mouth. This restoration is held in place via metal clasps that wrap around existing teeth.
Full Denture – Used to replace all teeth in either the top or bottom arch. It's customized to fit the shape of your mouth and be held in place via denture adhesive during the first several weeks of wear.
The Process of Receiving Dental Implants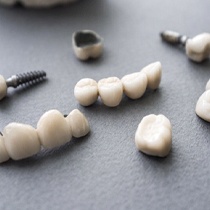 While all of the non-implant tooth replacement options rely on existing teeth or the overall shape of your mouth to stay in place, dental implants rely on titanium posts that are integrated with the bone and gum tissue. Once the implant is placed, we'll allow for the implants to integrate over the next several months. After it's fully healed, an abutment is placed on top, which acts as the stabilizer and connector for the permanent restoration. The good news is both dentures and bridges can be customized to fit on top of dental implants, so you can replace multiple teeth at a time while still reaping the benefits of implant dentistry!
Benefits You Can Expect from Dental Implants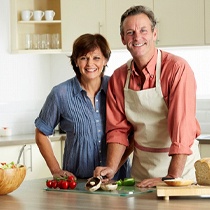 When you choose dental implants to replace teeth, you can expect restorative benefits that you will not find via traditional methods. This includes:
The ability to maintain the condition of your current tooth enamel
A fully replaced root structure, which keeps the bone stimulated and the shape of your jaw intact
A truly long-term solution for tooth loss, with the average lifespan of dental implants lasting 25 years and longer
Fixed restorations that require no removal for maintenance
The ability to eat the foods you want without worry thanks to your improved biting force
The most natural-looking esthetics possible