Missing Single Tooth – Astoria, NY
Complete Your Smile with a Dental Implant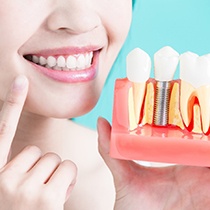 From chewing a wide variety of foods to speaking clearly, your teeth are essential to your quality of life. They also influence your oral health and your confidence. Losing even one can have devastating consequences to your dental health and functions. You don't need to live with the complications of an incomplete smile. Our office offers the latest tooth replacement treatments, including dental implants in Astoria. Dr. Shkurti will rebuild your smile using a treatment that looks and feels natural.
Options for Single Tooth Replacement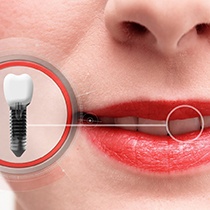 Every tooth is vital to your oral health and functions. If you've lost a tooth, you'll experience a variety of complications if it's not replaced because you're not just missing the crown. You've also lost the root. As a result, your jawbone will slowly deteriorate because it isn't being stimulated by the root. Unfortunately, this makes your remaining teeth lose the support they need to stay in place, so they will drift out of alignment. This increase your risk of cavities, gum disease, and additional tooth loss.
If you lose more teeth, it will be difficult to maintain a balanced diet because tooth loss affects your ability to chew. Overt time, this can lead to nutritional deficiencies. You'll also notice your appearance change because your facial tissues won't have the support of your teeth. This can cause wrinkles and sagging skin, making you look older than your real age.
Thankfully, Dr. Shkurti has the solutions you need to save your smile and restore your self-esteem.
Fixed Bridge: The most traditional treatment for a single lost tooth is a bridge and crowns. The portion of your tooth visible above the gum line is recreated from all-ceramic material. It will look natural while also being durable. The tooth is held in place by reshaping your adjacent teeth to bond dental crowns over them. You can enjoy a complete smile after just 2 appointments; however, you'll need to permanently alter healthy teeth.
Dental Implant: A dental implant treats the entire tooth, including the root. A titanium implant post is surgically placed into your jawbone to act as a root. An abutment is connected to the post to attach your custom-made crown. Although it will take several months to complete your treatment, you'll benefit from a solution that can last for a lifetime.
Benefits of Dental Implants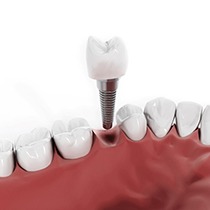 Replacing the root of the tooth creates several advantages that aren't possible using a traditional fixed bridge, including:
Over a 95% success rate to last for several years with the right care.
All-ceramic restoration looks natural to improve your confidence.
Doesn't rely on healthy teeth for support.
Regain as much as 70% of your natural biting force.
Preserve your jawbone's density to stop dental drift.
Improve your oral health to reduce long-term dental costs.
Look younger by supporting your facial tissues.
Doesn't alter healthy teeth.
Cost-effective solution that shouldn't need to be replaced.
Schedule an Appointment Today
If you're missing a tooth in Astoria, our office has the solutions you need to complete your smile. Contact our office today to schedule your consultation for dental implants.